Wacker Neuson offers new compaction control system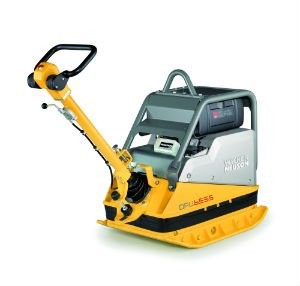 Wacker Neuson is offering a new compaction control system on its most popular diesel reversible plate, model DPU 6555Hec. The monitoring system is called Compatec and takes the guess work out of determining when soil has reached the ultimate compaction results.
Wacker Neuson's DPU 6555Hec is the company's first reversible plate to be available with the Compatec system. The easy to read system consists of eight highly visible LEDs. The number of lights will increase with each pass and will no longer increase once the maximum compaction is achieved. This system is an excellent tool for less experienced operators and helps avoid unnecessary passes. Compatec will also warn the operator with all eight LEDs flashing when the machine is measuring an overload or over compaction condition.
The display unit is conveniently placed on the back of the machine where the operator simply glances down to see the highly visible LEDs. The LEDs brightness will automatically adjust to the brightness of the environment so that even in bright sunlight the system is easy to read.
Unlike other compaction monitoring systems available, Wacker Neuson's Compatec device is positioned entirely in the upper mass of the plate where it is exposed to fewer strong vibrations produced by this powerful plate. This design provides best-in-class durability with no wires going between the upper and lower mass of the plate. There is only one short wire between the transmitter and the display. Because of the overload protection system indicated by the flashing lights, there is less chance of damage due to operation on hard surfaces.
Wacker Neuson's Compatec is available on the DPU 6555Hec, This unit weighs in at 1064 pounds and produces 14,612 pounds of centrifugal force. The low profile unit features standard extension plates providing for adjustable operating widths of either 22 or 28 inches. This popular reversible diesel (12.9 hp Hatz) plate offers infinitely variable forward and reverse operation including spot compaction for excellent results on various types of soil.
Company info
Related products