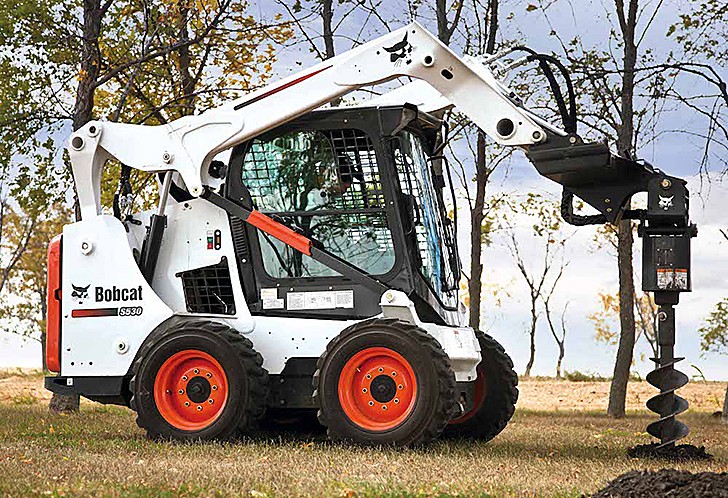 The S530, S570, S590 and T590 models feature vertical lift path boom arms particularly suited to lift and carry as well as material-handling applications. The new vertical lift path loaders offer an increased lift height compared to the previous generation of machines and, combined with an optimized lift arm design, provide operators with the ability to lift heavier loads higher, making it easier to clear high-sided truck boxes and hoppers, as well as placing pallets loaded with heavy materials.
Features & Benefits
Premium cab for more operator comfort
The new cab, with new positioning and design for better visibility, is the best one yet. Bobcat increased the cab space by 10% – with more room for your arms, legs, shoulders, head and feet.
Superior performance
We've further enhanced the machine with 20% stronger hydraulics for improved attachment performance. Increased fuel capacity, more powerful and brighter lighting and many other features will save you time and effort on the job.
Durability
Thanks to heavy-duty construction, component protection and a superior design, the Bobcat loader outperforms others, maximizes up-time, offers more comfort and is still the easiest and fastest to service.
Serviceability
Easy access to routine maintenance points – so daily maintenance is done quickly and easily. The swing-open tailgate and the transverse mounted engine provide one-sided serviceability. Cab tilt provides easy access to the hydraulics.
Stronger hydraulics
The higher standard flow combined with lower backpressure and high hydraulic pressure results in 20% improved hydraulic efficiency.
Increased tractive effort
Stronger hydraulics and better tractive effort result in faster cycle times.
Increased cooling capacity with easier cleaning
The re-engineered cooling system gives you more efficient, higher-capacity cooling for better performance and longer machine life.
Increased fuel capacity
Work longer between refuelling stops and increase your productivity.
Simple machine tie-downs
Secure your loader quickly, without searching for hard-to-reach tie-downs. The new tie-downs are easy to find and easy to reach.
Specs
Key specifications

| | |
| --- | --- |
| Rated Operating Capacity (SAE) | 1850 lb (839.15 kg) |
| Operating Weight | 6480 lb (2939 kg) |
| Horsepower | 49 hp |
| Auxiliary Std Flow | 17.1 gal/min (64.7 l/min) |