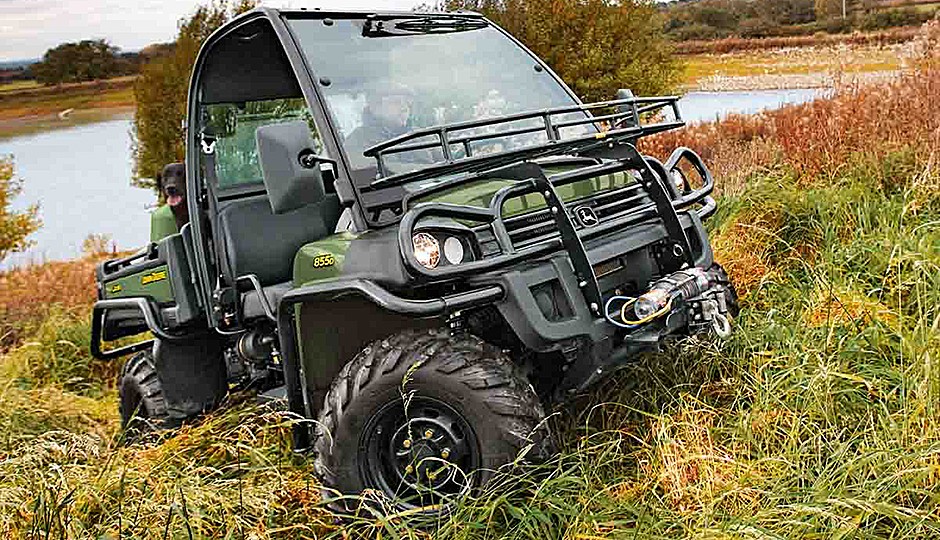 Two seats. Available power steering. 3/4 ton towing capacity. Bring it. The 32 MPH, 22.8 HP diesel-powered XUV 855D Crossover utility vehicles are engineered to get things done, fast.
Features & Benefits
Diesel engine
Powered by an 854-cu cm (0.854-L), three-cylinder, liquid-cooled, four-cycle diesel engine. It produces 5.1 kgm of torque (36.9 lb-ft) at 2400 rpm. The advanced engine delivers superb starting, idling, and throttle response during operation.
Superior terrain capability
The precision-engineered drivetrain system fully utilizes engine power, optimizes acceleration, hauling, towing, and hill-climbing capabilities. Power is transmitted from the engine through a continuously variable clutch system to the transaxle.
Cargo box
The deluxe cargo box consists of a 15 percent glass-filled polypropylene composite material that eliminates rust, dents, and reduces noise.
Dual A-arm front and rear suspension
Provides a smooth ride over challenging terrain and excellent hauling characteristics. The entire suspension system has been optimized to handle no cargo to maximum cargo without compromising ride quality or vehicle stability.