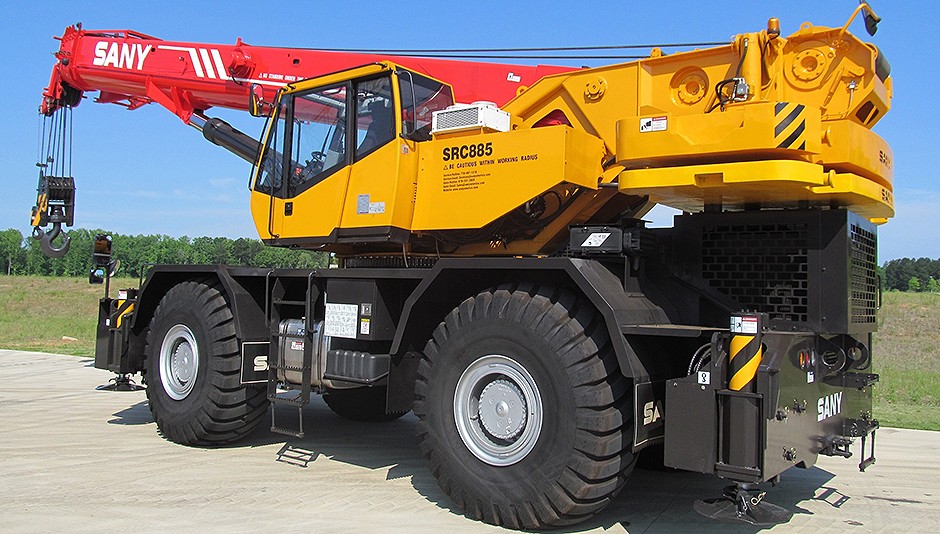 SANY America's powerful and versatile line of rough-terrain cranes brings the power to where you need it on virtually any type of job site. Whether your challenge involves a heavy lift on uneven ground or a pick-and-carry operation, count on SANY rough-terrain cranes to deliver. The SANY SRC885 features maximum capacity of 85 U.S. tons and excellent reach of up to 209.7 feet through a five-section full-power boom. Hydraulic powered 4x4 steering delivers superior maneuverability, while the earthmover-style tires provide smooth ride, even in adverse ground conditions. Three-position outriggers level the crane with up to 12.4 inches of ground penetration and total horizontal extension of 24 feet.
Features & Benefits
Anti-Two-Block (A2B)
A limit switch and an actuation weight on load lines are provided prevent two-blocking of the hook block and the overhaul ball.
Backup Alarm
A backup alarm will operate when the machine is placed in reverse.
Boom Length Indicator
A cable reel is provided to measure the boom length and it is displayed on the LML console.
Drum Brake
All hoist drums are equipped with a spring applied hydraulic released brake. The brake will automatically apply when the control handle returns to neutral.
Load Holding Valves
Load holding valves are provided on all cylinders that support the load to prevent uncontrolled lowering of the boom in the event of a hydraulic system failure (e.g., supply hose rupture).
Third Wrap Indicator
A roller riding on the hoist wire rope will actuate a switch to warn the operator when 3 dead wraps are remaining.
Outrigger Position Sensor
Each outrigger beam is supplied with a position sensor to monitor the extension of the outrigger beams.
Load Moment Limiter
A Load Moment Limiter (LML) system is supplied to monitor the hook load and compare it with the rated load for the configuration indicated by the operator.