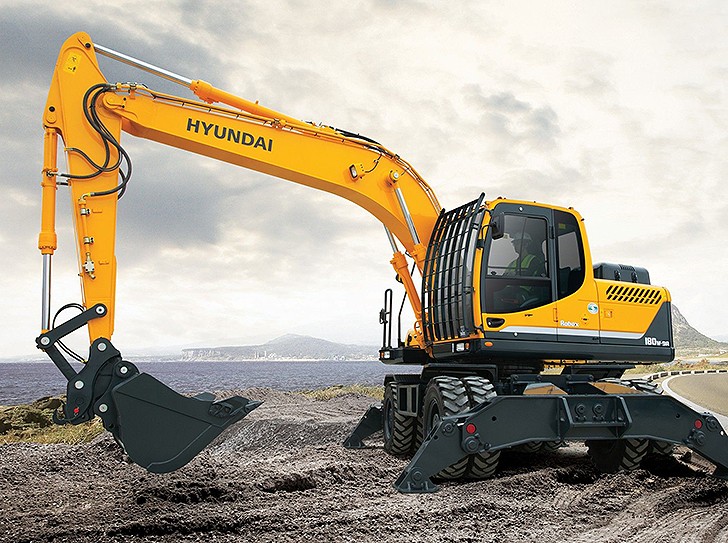 Hyundai Wheeled Excavators take a great idea and make it more fuel efficient, fast, smooth and easy to control as well as comfortable for the operator.
Hyundai 9-Series Wheeled Excavators guarantee performance and reliability. Our goal is to make these machines so high-performing that you treat it as your work partner. Also, Hyundai offers a total coverage warranty, including a three-year, 3,000-hour full machine warranty as well as a five-year, 10,000-hour structural warranty.
Features & Benefits
Engine Technology
Proven, reliable, fuel efficient, low emission and low noise. Cummins Tier 4 interim & EU stage III B engine
Hydraulic System Improvements
New patented hydraulic control for improved controllability. Improved control valve design for added efficiency and smoother operation. New auto boom and swing priority system for optimum speed.
Pump Compartment
Industry-leading, powerful, reliable Kawasaki designed, variable volume in-line axial piston pumps. New compact solenoid block equipped with 3 solenoid valves, 1 EPPR valve, 1 check valve accumulator and pilot filter.
Enhanced Operator Cab
Enlarged cab with improved visibility / See-through upper skylight for visibility and ventilation. Larger right-side glass, now one piece, for better right visibility.
Improved Cab Construction
New steel tube construction for added operator safety, protection and durability. New window open/close mechanism designed with cable and spring lift assist and single latch release.
Improved Suspension Seat / Console Assembly
Ergonomic joysticks with auxiliary control buttons for attachment use. Now with new sleek styling. Heated suspension (standard) or optional air ride suspension with heat.
Advanced 7" Color Cluster with Touch Screen
LCD color Display with easy to read digital gauges for hydraulic oil temperature, water temperature, and fuel. Simplified design makes adjustment and diagnostics easier. Also, new enhanced features such as rear-view camera are integrated into monitor.
Improved Steering Column
Slim-profile steering column capable of telescoping 60 mm and tilting 30 degrees.