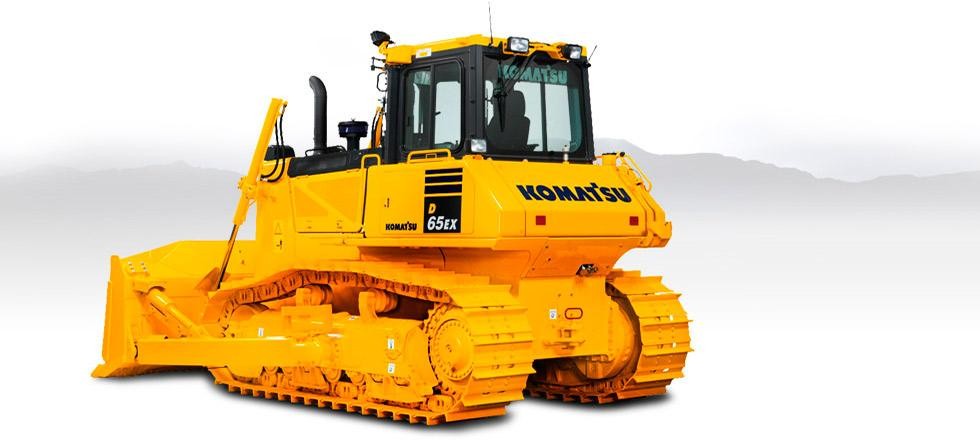 The D65EX-17 provides excellent production and economy at the same time. The Komatsu exclusive Sigma blade can produce 15% more than a conventional semi-U blade and the automatic transmission with lock-up torque converter can reduce fuel consumption by up to 15% over the previous model. To make the operator more comfortable and productive, a new air suspension heavy duty heated seat is standard. Hydrostatic steering (HSS) with a palm command control joystick gives the operator the ability to make smooth turns under full power.
Features & Benefits
Advanced Electronic Control System
The control system has been upgraded to effectively manage a variety of parameters such as the air flow rate, EGR gas flow rate, fuel injection parameters, and after treatment functions. The new system also provides enhanced diagnostic capabilities.
KDPF Regeneration Notification
The LCD color monitor panel provides the operator with the status of the KDPF regeneration without interfering with daily operation. When the machine initiates active regeneration, an icon will notify the operator.
SIGMADOZER – The Next Generation Blade
Based on a completely new digging theory, SIGMADOZER dramatically improves dozing performance and increases productivity.
Palm Command Control System PCCS Travel Joystick
Palm command travel joystick provides the operator with a relaxed posture and superb fine control. Transmission shifting is simplified with thumb push buttons.
Hydrostatic Steering System (HSS)—Smooth, Powerful Turning
The engine power is transmitted to both tracks without power interruption on the inside track for smooth, powerful turns. Counter-rotation is available in neutral for minimum turning radius, enhancing maneuverability.
New Air Suspension Seat
A new higher capacity low-back heated seat with headrest and 15° swivel is now standard.
Specs
Key specifications

| | |
| --- | --- |
| Horsepower | 205 @1950 rpm |
| Operating Weight | 44,355 lbs |
| Blade capacity | 5.09 – 7.34 yd³ |