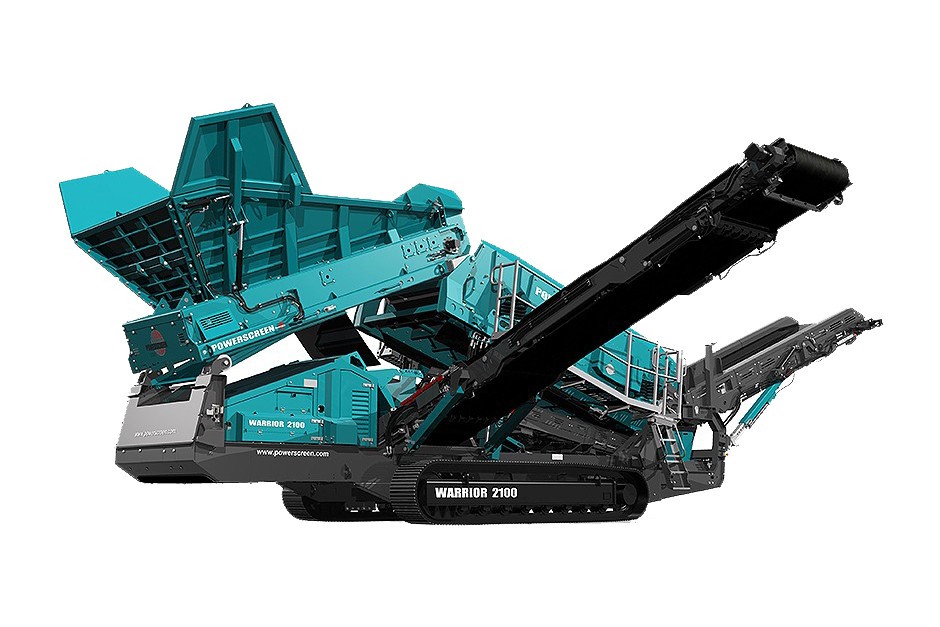 The Warrior 2100 is engineered to include the proven Triple Shaft technology which is unique to Powerscreen heavy duty mobile screens. The triple shaft design ensures that the 16' x 5' screen box is highly efficient while maintaining exceptional throughput productivity. The extreme screening acceleration offers the Warrior 2100 improved capabilities over its class rivals, especially in sticky scalping applications. Whilst the Warrior 2100 sits within the same transport envelope as other machines in the 16' x 5' class, it has been proven to considerably outperform any conventional single shaft 16' x 5' screen.
Features & Benefits
Triple Shaft technology
Heavy duty, 2 deck screen box featuring Triple Shaft technology with adjustable screen timing, amplitude and frequency.
Hopper
Rigid one-piece hopper for optimum material flow.
FUEL EFFICIENCY
Low engine running speed to improve fuel consumption.
Conveyor
Hydraulic folding conveyors with excellent stockpiling capacity. Side conveyors can be switched.
Functionality
Rapid set-up and shutdown time.
Specs
Key Specifications

| | |
| --- | --- |
| Weight (Est) | 36,000kg (39.7 US Ton) |
| Working width | 13.6m (44'7") |
| Working length | 16.3m (53'5") |
| Working height | 4.5m (14'8") |
| Screen box | 4.88m x 1.5m (16' x 5') |