Powerscreen Launches The Warrior 2100 Screen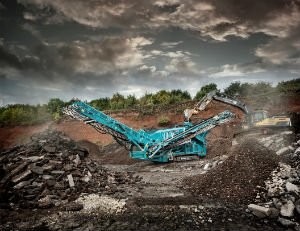 Powerscreens new Warrior 2100 screen demonstrates superior levels of operation, in terms of productivity, efficiency and up-time.
Oliver Donnelly, Powerscreen Product Manager said: "As a multinational organisation with almost 50 years' experience, we see innovation as being more crucial than ever before. We strive to develop innovations and ideas that help us stand out from the crowd while at the same time offer our customers meaningful operational advantages. The new Powerscreen® Warrior 2100 screen does just this. Offering improved performance, lower operating costs, and easier serviceability than competitor models while introducing the ultra-aggressive screening action of a triple shaft drive system to the 16' x 5' category for the first time."
G.D. Harries & Sons Ltd. tested one of the first units. Site Manager, Dirk Simkiss, said, "The Warrior 2100 provides flexible screening options, generous stockpile heights, quick setup times and an improvement in downstream production. The screen jack-up facility also allows for quick screen media changes. Overall an excellent machine which allows us to retrieve value from overburden material. Being able to effectively screen this difficult material reduces the requirement to blast, eliminating the associated environmental impact whilst also saving us time and money. We can now utilise overburden material and turn it into a valuable product."
The Warrior 2100 screen includes our proven triple shaft technology, first developed for the successful Warrior 2400 screen, a model which is now well established in markets worldwide. This triple shaft technology, unique to Powerscreen heavy duty mobile screens, is designed so the 4.8m x 1.5m (16' x 5') screen box is highly effective and efficient while maintaining exceptional throughput productivity. The extreme screening acceleration offers the Warrior 2100 screen improved capabilities over its class rivals, especially in sticky scalping applications. With amplitudes and accelerations in excess of 16mm and 6g respectively, the Warrior 2100 triple shaft screen is more prolific at removing and breaking up clay materials than any of its class rivals.
The Warrior 2100 screen is designed with economy in mind, with reduced fuel consumption being offered through a lower engine running speed of 1800rpm and enhanced hydraulics. With media solutions which include Bofor Grizzly, Finger Modules, Punch Plate and new 3D Punch Plate, the Warrior 2100 screen is extremely efficient in scalping, screening and recycling applications.
The adjustable speed, stroke and timing parameters of the screen, positions the Warrior 2100 with an unrivalled level of versatility and performance through a broad spectrum of applications including recycling, biomass markets and the more mainstream segments including aggregates and sticky over-burden.
Generous stockpiling capacity is standard on all conveyors with the chassis riser and the telescopic side conveyor option offering further impressive benefits. The Warrior 2100 screen is equipped with a long tail conveyor that allows feeding of a secondary plant without benching in almost all instances.
A particular benefit to contractors is the reduced set-up and shutdown time. Serviceability features include a class leading screen box raise function and the unique ability to raise the collection conveyor. Optimal chute design in conjunction with the feeder under-tray slide-out feature minimises any potential spillage and reduces any harmful material build-up around the machine.
The Warrior 2100 screen boasts impressive mobility with a two speed tracking system as standard. The high speed mode is further enhanced with automatic engine speed ramp-up making the Warrior 2100 screen model the fastest tracked machine in its range.
The Warrior 2100 screen can be fitted with either a Tier 3 / Stage IIIA Caterpillar C4.4 ATAAC - 4 cylinder diesel engine developing 90kW (120hp) at 1800 rpm, or a Tier 4i / Stage IIIB Caterpillar C4.4 - 4 cylinder diesel engine developing 98kW (131hp) at 1800 rpm.
Company info
Related products