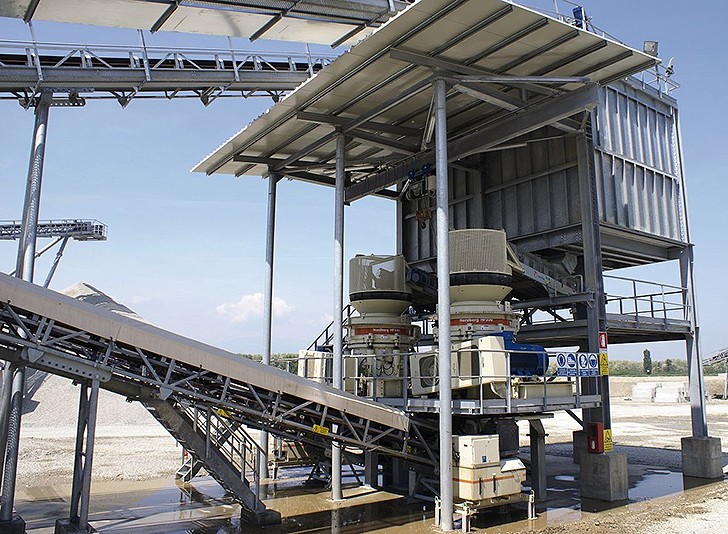 Our mission is to contribute to a more sustainable world by helping you to process natural resources and recycle materials into valuable products. Therefore, driving customer success is one of the values Metso is committed to, and Nordberg® HP™ cone crusher series contribute to the achievement of this value by offering unprecedented performance: High capacity, quality of finished products, while being energy efficient.
Features & Benefits
Production
Increasing the stroke, the power and the retaining force are the principle actions on kinematics. The density in the crushing chamber is increasing, improving the inter-particle crushing action, resulting in superior product shape.
Less downtime
Dual acting hydraulic tramp release cylinders are used to let the crusher pass tramp iron but also to provide a large clearing stroke if needed. The double accumulator combination provides better reactivity of the hydraulic system.
Operator confidence
Upmost accessibility from the top of the crusher to the principle components, easy access for liner maintenance, mechanical rotation of the bowl to remove it simply by pressing a button, and no backing compound on liners.
High performance
HP series cone crushers feature a unique combination of crusher speed, throw, crushing forces and cavity design.
Higher yields
Compared to equivalent crushers size, the HP has a higher output capacity, higher density in the crushing chamber and better reduction ratio, enabling to produce higher on-spec yield end products with the same energy consumption.
safety
HP series cone crushers are safe and easy to maintain. Fast and easy access to all the main components from the top, dual acting hydraulic cylinders, no backing material, creates a notably impact on maintenance downtime but environment friendly as well.