Metso introduces HP3 cone crusher in North America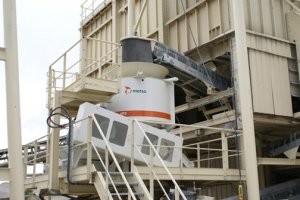 Metso introduced its HP3 cone crusher to the North American market at the company's 2012 New Product Expo, October 24-25 in Columbia, South Carolina. The HP3 follows the successful HP4 and HP5 as the third model in an all-new range of high performance cone crushers. With a combination of a higher stroke, higher pivot point, more crushing force and more power, the HP3 delivers higher crushing efficiency, excellent end product shape and safer, reliable operation.
High productivity, end product quality
The HP3 provides the highest reduction ratios of any cone crusher in its class, producing finer products using fewer crushing stages, saving customers both on energy and operating costs. The higher cavity density of the HP3 improves inter-particle crushing action for end products with consistent gradation and superior shape.
Less downtime, easy to maintain
Major enhancements include dual-acting hydraulic tramp release cylinders that enable the HP3 to pass tramp iron without stalling or damaging internal components. If the crusher does stop under load, these dual-acting cylinders provide a large clearing stroke to quickly and safely clear the crushing cavity.
An advanced fastening system for the mantle and bowl liner eliminates the need for backing material, helping the environment and making liner changes faster and easier. When the liners must be changed, the same hydraulic motors that rotate the bowl for setting adjustment will rotate the bowl completely out of the adjustment ring threads, simplifying replacement. The HP3 is also safe and easy to disassemble, with access to the head, shaft, eccentric and other major components from the top.
IC700 Automation
Metso's IC700 automation system ensures optimum operating parameters to utilize the full potential of the HP3 cone crusher. The IC700 system monitors oil flow and temperature, making sure that the crusher is always running under ideal conditions. IC700 is designed to be easy and simple to use, with a built-in help screen and trouble-shooting options.
HP3: Notable design features and benefits
• Higher Stroke - the stroke of HP3 provides an extremely high capacity, shape and reduction ratio.
• Optimized head and the crushing chamber - Liner profiles and head are perfectly designed to optimize inter-particle crushing action and increase density in the crushing chamber.
• Higher speed - Due to the use of bronze bushings, HP cone crushers can be run up to 1100 rpm, with no mechanical constraint.
• One piece main frame - no upper frame to dismantle when changing the liner.
• Fast and easy access to all the main components from the top.
• Easily removable bowl
• No backing material on liners - easier and faster to change liners, no backing material is a plus for the environment.
• Hydraulic tramp release – crushing chamber is easily cleared
• Energy efficient - Compared to equivalent crushers of the same size, the HP3 has a higher capacity, density and attrition enabling the production of finer end products with the same energy consumption.

Company info
Related products