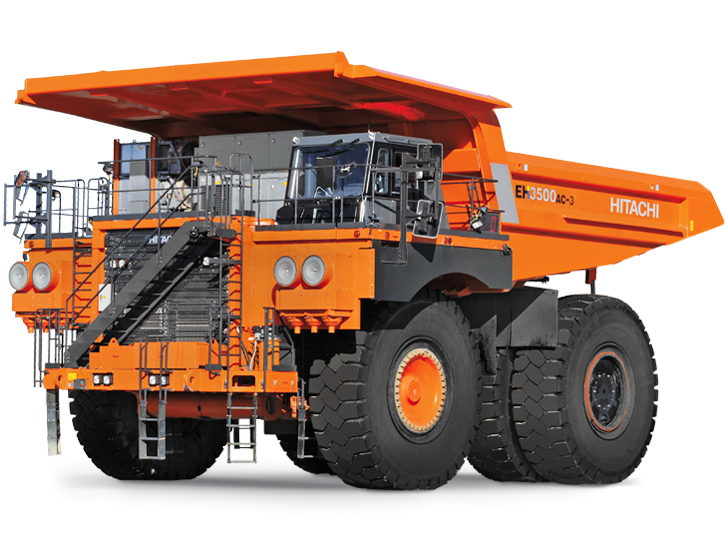 What happens when you combine our time-proven truck technology with our newest and most efficient Advanced IGBT AC-Drive system? You get the EH3500AC-3, one of the most technologically advanced mining trucks in the world.
Features & Benefits
AC Drive Proven Performance & Economic Advantages
Hitachi engineered AC drives make your hauler a more valuable asset in your mining operation. Better performance, higher availability, and significant reductions in maintenance and operating costs.
High-Powered Engine Selection
Standard Cummins QSKTA50-CE engine or optional MTU 12V4000 C21 engine is selectable for the market outside of North America. Within North America, choice is limited to the Cummins QSKTA50-CE engine.
Long Frame Life
Fabricated box section and rectangular frame rail construction provides superior resistance to bending and torsional loads. Top and bottom flanges eliminate cross member tie-in joints & provide a larger exposed centre area for access to major components.
Tough body
The Hitachi horizontal stiffener design minimizes stress concentrations by dissipating load shocks over the entire body length. Efficiently spaced stiffeners provide additional protection by minimizing distances between unsupported areas.
Auto cruise/retarding control
Auto cruise control keeps vehicle speed constant within the set range by limiting the minimum vehicle speed. Auto retarding control keeps vehicle downhill speed constant within the set range by limiting the maximum vehicle speed.
Enhanced slip/slide control
An active traction control and anti-lock brake system in slippery conditions. The enhanced performance of the Slip/Slide Control System comes from the utilization of various new sensors on the front wheels, suspension and steering systems.
Easy-access ladder
The EH3500AC-3 features a new, easy-access diagonal ladder that provides a safe, quick way to get in and out of the cab.
Specs
Key specifications

| | |
| --- | --- |
| Nominal Payload with Standard Equipment | 181 tonnes (200 tons) |
| Target Gross Machine Operating Weight | 322 000 kg |
| Engine: Standard | Cummins QSKTA50-CE Rated Power 1 491 kW (2 000 HP) |