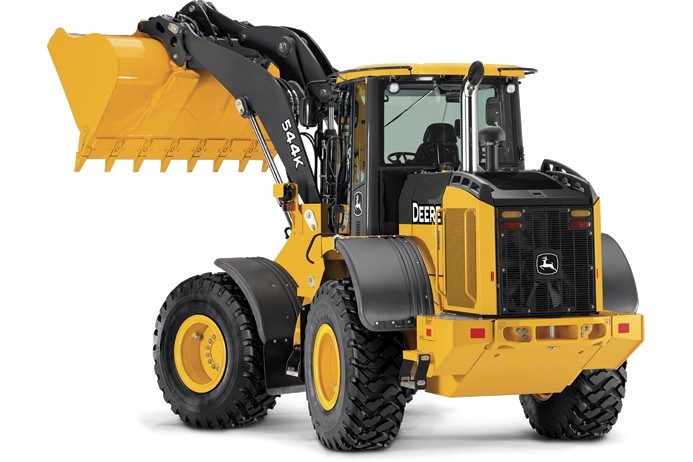 If you've got maximum productivity in mind, the 544K Loader should be at the top of your list. But it's not just the big torque reserves that makes it such an impressive performer. Single-level joystick or two-lever fingertip controls provide smooth, near-effortless control. Excavator-style hydraulics sense the load and deliver the flow needed for smooth combined functions and fast work cycles. You won't find a smoother shifting loader, either. The PowerShift torque-converter transmission employs SmartShift technology to continuously evaluate speed and load conditions, and adjusts clutch-pack engagement to suit.
Features & Benefits
Engine
The EPA IT4-certified engine provides the same horsepower and torque as that of a Tier 3 engine. The IT4 engine utilizes an automatic regeneration process which periodically cleans the filter without impacting machine productivity.
In-tank filter
The in-tank filter with large element traps that hold contamination allow for cleaner oil, a cleaner hydraulic system, and less maintenance. Service intervals are extended to 4,000 hours. The hydraulic filter is a common part for the 444K – 844K.
Hydraulics
Excavator-style hydraulics sense the load and deliver the flow needed for smooth, combined functions and fast work cycles.
JOYSTICK STEERING
Choose from single-lever joystick or two-lever pilot-operated hydraulic controls. Joystick FNR selector provides convenient direction and full-range gear changes.
Cab
Spacious cab provides plenty of room to stow your stuff, including a cooler compartment and beverage holder. Cab noise has been noticeably reduced for decreased operator fatigue.
Comfort
Standard air-ride armchair seat adjusts multiple ways for extra comfort and cushioning over rough terrain. Premium high/wide-back heated seat with leather inserts is available.
Z-bar linkages
Z-Bar linkages provide high bucket breakout forces, good rollback to carry loads without spilling, and very solid stability. With pin-on attachment or attachment coupler.
Parallel lift
Parallel lift that's simply unparalleled. Our innovative design separates the bell crank from the cross tube, attaching instead to the loader frame via a Y-shaped link.
High-lifts
High-Lifts provide high bucket breakout forces, good rollback to carry loads without spilling, and very solid stability with lighter materials. High-Lift is recommended for high-sided truck and hopper applications.
Monitor
Unsurpassed colour monitor provides an easy-to-read LCD screen with on board diagnostics, digital gauges, and vital system-status lights.
Loadrite
Simple, easy-to-use payload weighing, powered Loadrite technology, is integrated into the LCD colour monitor and is available factory- or field-installed for Z-Bar and High-Lift machines.
Quad-Cool
Quad-Cool places the radiator, air-conditioner condenser, intercooler, and hydraulic, transmission, and optional axle coolers in a unique boxed bulk head configuration that's isolated from engine heat.
Fan
Swing-out, hydraulically driven, proportional fan provides unmatched access and minimizes engine load and fuel consumption by turning only as fast as necessary.
Sealed-switch mode
Eliminates all standard rocker switches and provides one central location with backlit and ergonomically friendly push buttons for all loader features.
Keyless start
Keyless start is standard equipment on K-Series models – pushing the green button on the sealed-switch module starts the engine.
Security function
The security function requires a code to be entered at engine startup. Owner, operator, and transport codes are set via the monitor. The security function can be turned off for customers if desired.
SERVICEABILITY
All daily service points, including fuel, are grouped on the left side for quick and convenient ground-level access. Sight gauges enable quick fluid-level checks.
Transmission
You'll immediately notice smooth shifting in all gears. John Deere's Smart-Shift technology adapts to speed and load for the industry's smoothest shifts. Transmission recalibrates to like-new shifting from the monitor.
JDLink
Standard equipped with JDLink Ultimate, you have 24/7-anywhere computer access to your truck's location, utilization, tonnage totals, monitor alerts, fuel-consumption diagnostics, and hours. Plus geofencing, curfew, and numerous other capabilities.
Specs
Key Specifications

| | |
| --- | --- |
| Net Power | 121 kW (163 hp) @ 1,800 rpm |
| Bucket Capacity | 1.9-2.3 m³ (2.5-3.0 cu. yd.) |
| Bucket Width | 2.54 - 2.69 m (8 ft. 4 in. - 8 ft. 10 in.) |
| Breakout Force | 8291–9809 kg (18,277–21,625 lb.) |