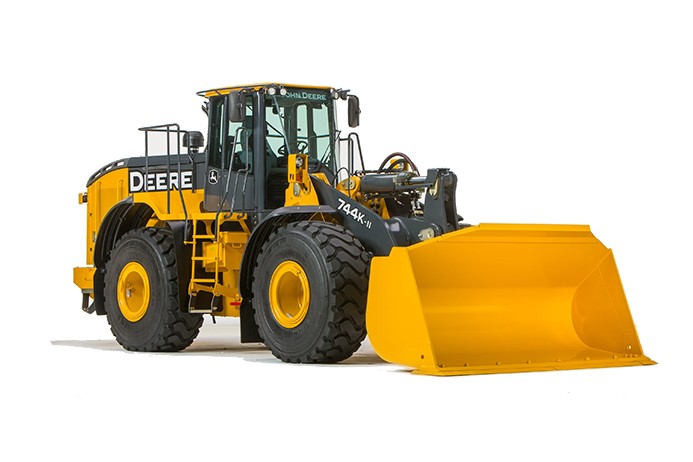 Serious productivity demands serious thinking. Many of the numerous advantages of the 744K-II came from the brightest minds in the industry — our Customer Advocate Group. Armed with insights from loader owners and users like you, we equipped these productive material movers with larger new higher-capacity axles with standard axle cooling and filtration for heavy-duty maneuverability in the most demanding terrain. Self-adjusting wet-disc brakes for extended wear life and sure stops. Advanced onboard diagnostics with pushbutton customization of machine operation and response. All to help increase productivity and uptime, while lowering daily operating costs. Owners, operators, and maintenance personnel will benefit from the big ideas found in the 744K-II loaders.
Features & Benefits
HYDRAULICS
Load-sensing closed-centre hydraulics deliver only the power required for smooth boom and bucket functions.
In-tank filtration
The in-tank filter with large element traps that hold contamination allow for cleaner oil, a cleaner hydraulic system, and less maintenance. Service intervals are extended to 4,000 hours. The hydraulic filter is a common part for the 444K—844K Series II.
Engine
Our FT4/Stage IV diesels meet emission regulations without sacrificing power or torque. This technology is simple, fluid efficient, fully integrated, and fully supported.
Radar object detection
Rear camera with radar object detection will alert the operator of any object that is in a direct path with the loader while backing up.
Park brake
Automatic, wet-disc, spring-applied, hydraulic-released parking brakes engages upon engine shutdown.
Quad-Cool
Quad-Cool design places coolers in a unique boxed configuration that's isolated from engine heat, for increased efficiency and durability.
Swing-out fan
Swing-out, hydraulically driven, proportional fan provides unmatched access and minimizes engine load and fuel consumption by turning only as fast as necessary.
Transmission
You'll immediately notice smooth shifting in all gears. John Deere's Smart Shift technology adapts to speed and load for the industry's smoothest shifts. Transmission recalibrates to like-new shifting from the monitor.
Serviceability & Uptime
All daily service points, including fuel, are grouped on the left side for quick and convenient ground-level access. Sight gauges enable quick fluid-level checks.
Controls and Steering
Choose either single-lever joystick or two-lever fingertip pilot-operated hydraulic controls. Joystick version is equipped with an F-N-R selector for convenient direction and full-range gear changes.
Improved Cab
Spacious cab provides plenty of room to stow your stuff, including a coffee cup, cooler, and other items. Standard eight-amp converter (15 and 30 amp are optional) and a 12-volt outlet provide convenient power for cell phones and other electronic devices.
Security modes
Keyless start allows up to 10 operator-specific standard security codes to help prevent unauthorized machine operation. Mobile JDLink Ultimate app enables owners to keep tabs on machine location and alerts via iPhone, iPad, or Android devices.
Monitor
Multi-language colour LCD monitor provides an easy-to-read screen with onboard diagnostics, digital gauges, and vital system-status lights.
Specs
Key Specifications

| | |
| --- | --- |
| Net Power | 226 kW (303 hp) @ 1,500 rpm |
| Bucket Capacity | 4.0–4.4 m³ (5.25–5.75 cu. yd.) |
| Bucket Width | 3.27 m (10 ft. 9 in.) |
| Breakout Force | 17 443–19 416 kg (38,433–42,805 lb.) |