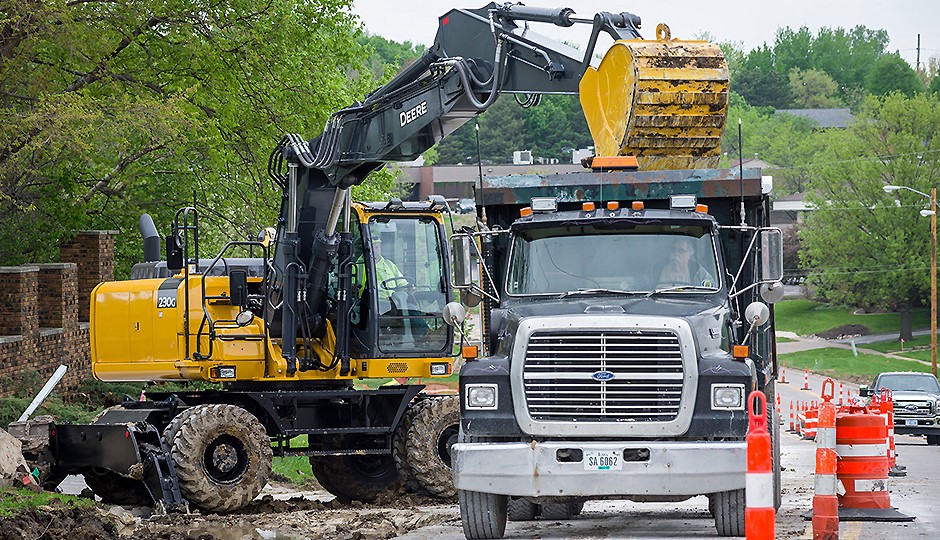 Work has never been easier than with the 230G W Wheeled Excavator. It's the perfect "Swiss Army knife" for a variety of work, whether it's clearing ditches, repairing sewers or potholes, loading trucks, or moving Jersey barriers. Rubber tires and faster transport speed mean you don't need to load it on a trailer to travel to a nearby job or across pavement. Rugged EPA Interim Tier 4 (IT4)/EU Stage IIIB diesel meets rigid emission regulations, enabling you to work, wherever there's work — even in nonattainment areas. Plenty of street smarts, too, with the Powerwise III engine/hydraulic-management system, three productivity modes, and Power Dig and Auto Power Lift functions. Add any of the many available options to tackle a wide variety of on- and off-road work.
Features & Benefits
Engine
The EPA Interim Tier 4/EU Stage IIIB technology utilized in our diesel engine is simple, fuel efficient, fully integrated, and fully supported. Highly efficient, heavy-duty cooling system keeps things cool, even in the toughest environments.
Tires
Rubber tires allow you to drive quickly from job to job instead of loading up a trailer — plus they're much friendlier to paved surfaces.
Covers
Heavy-duty covers on the oversize outriggers help prevent damage to the hydraulic cylinders.
Blade
Refined parallelogram blade better handles backfill and cleanup duties, while serving as a third stabilizer during digging.
Auto Power Lift
Need a little extra lift when craning? Auto Power Lift automatically engages when the boom is raised. When the digging gets tough, press the Power Dig button for the extra hydraulic power you need to muscle through.
Hydraulics
Generous hydraulic flow and smooth, predictable metering ensure powerful digging force, precise low-effort control, and superb multifunction operation. Quick, responsive pump activation eliminates any delay in functions.
Monitor
Multi-language LCD monitor and rotary dial provide intuitive access to a wealth of information and functions. Just turn and tap to select work mode, access operating info, cab temperature, and tune the radio. Plus much more.
Controls
Pushbuttons in the right lever allow fingertip control of auxiliary hydraulic flow for operating attachments. Select engine speed, auto-idle, power mode, power boost, lighting, and window wiper settings all on the right-hand console.
wear-resistant
Tungsten-carbide coating creates an extremely wear-resistant surface to protect the all-important bucket-to-arm joint.