Manufacturer
Company Description:
In 1972, Vanair pioneered Power Take-Off (PTO) rotary screw technology. Over forty years later, Vanair offers the most comprehensive line of rugged and reliable products in the mobile power industry. When you need Mobile Power Solutions, you can rely on Vanair's line of powerful, compact, and lightweight truck-mounted mobile power products that have air systems that range from 10-1500 cfm and up to 500 psi and generators that range from 4kW to 40kW.
Vanair's rugged and reliable Drill Compressors are engineered to meet your most demanding drilling needs. Designed to improve efficiency and productivity, they instantly match the footprint of a Sullair® module. Featuring the durable and proven Sullair® rotary screw air compressor, the product line offers packages up to 1500 cfm @ 500 psi in single and two stage configurations that can be completely tailored to meet your needs.
For applications where truck-bed space is at a premium and powerful performance is a requirement, Vanair offers a variety of hydraulic-driven rotary screw air compressor. Ideal for applications in the tire and mechanic service markets, these units combine heavy duty performance in a vehicle-mounted design, offering the power you need for virtually any application.
When you are in the market for a powerful, compact and lightweight vehicle-mounted Underdeck Air Compressor, look no further. A fraction of the cost of tow-behinds, these rotary screw air compressors deliver a powerful 30 to 1000cfm and their space-saving positioning, convenient accessibility, and rotary screw dependability is second to none in the industry. Available in shaft driven and hydraulically driven underdeck systems, it's patented Genair® product line offers up to 185cfm of air with a 9.6 kW AC generator. These systems increase mobility, free up valuable bed and hitch space and eliminate damage and repair costs of tow-behind air compressors. These underdeck systems are Tier 4 compliant and get rid of an extra engine to operate, maintain, license and insure.
Vanair also includes Engine Driven Compressors which offer 18 to 80cfm which is ideal for general construction, directional boring, landscaping, irrigation, post pounding, mining, and oil and gas jobs. Vanair features an Abovedeck Air Compressor line that offers power and performance to fit virtually any application. Reciprocating and rotary screw units are available from 30 to 185 of cfm. Ideal markets are Mechanic Service, Tire Service, Municipalities, Utilities, Farming, Rental Houses, Railroad Maintenance and Monument Engraving.
Available in a variety of sizes and configurations, Vanair's ALL-IN-ONE Power Systems® will fit in the bed space of a typical single welder. The Welder/Generator/Air Compressor/Battery Booster/Battery charger/hydraulic pump combination packages are designed to mount into standard service bodies without body modification and allow the user easy access to controls. These systems provide power up to 300 amps, 40cfm at up to 175cfm, 7kW and 10.5 gpm and are available in gas, diesel and hydraulic drive with reciprocating or rotary screw compressors. Tough, dependable and assembled in the USA…Air N Arc® ALL-IN-ONE Power Systems®…designed around your truck and the way you use it.
The Vanair V-TEC® works with our full line of underdeck air compressors, and Genair® combination systems. Utilizing simple OEM "plug and play" connections, the V-TEC® is designed to deliver over 50% faster installation, while providing complete diagnostic and speed control via an LCD control panel.
The V-TEC® Total Electronic Control and Diagnostic System is now available with remote start/stop capability, allowing the operator to engage and disengage the PTO from up to 100 feet away. This innovation reduces fuel consumption by allowing complete shutdown and startup of the compressor system at the touch of a button versus having to wait for a convenient time to return to the vehicle.
Vanair offers continuing education classes for both sales and technical training on a monthly basis. In addition, Vanair is equipped with a complete staff of knowledgeable customer service representatives to aid in any question you may have concerning your Vanair equipment. Vanair Manufacturing...look no further for your total Mobile Power Solution's company.
435 Drill Module
Vanair's Drill Module line instantly matches the footprint of a Sullair® module and features a Sullair® rotary screw air compressor. The product line offers packages up to 1500 cfm @ 500 psi in single and two stage configurations.
LiveDrive with Thru-Drive™ Technology
LiveDrive Plus with the Thru-Drive™ Technology is specifically designed for four wheel drive (4x4) Ford Super Duty vehicles and offers up to an industry leading 200 cfm of serious and reliable PTO shaft driven air power. This new system, exclusive to Vanair for air power, utilizes a modified transfer case (Thru-Drive™) which allows the compressor auxiliary driveshaft to directly pass through the four wheel drive transfer case connecting it right to the PTO. The simple and easy to install Thru-Drive™ system eliminates the need for split-shafts or three piece drivelines, and offers a more powerful and problem free air solution at far lower engine speeds then underhood types with their inherent belt breakage issues.
Viper Diesel
Designed to meet a variety of industries including the service and mechanic, oil and mining, contractors, municipalities, and DOT, Vanair's Viper Diesel is the first to provide big air up to 80 cfm and 100 psi in a portable and compact unit. The Viper Diesel is Tier 4 compliant and features a lifetime warranty on the air end and can run on or off your vehicle.
Air N Arc® I-300 ALL-IN-ONE Power System®
Vanair's Air N Arc® I-300 is the first system in the world to offer six forms of power in a single 48" unit. Based on the technology of the Air N Arc® 300 diesel system, it provides an integrated 40 cfm rotary screw compressor, 7kW AC generator, 300 amp welder, battery booster and battery charger, with the newly added power of a 10.5 gpm hydraulic pump...all driven by a single engine.
Vanair's Underdeck Systems
When you are in the market for a powerful, compact and lightweight vehicle-mounted Underdeck Air Compressor, look no further. A fraction of the cost of tow-behinds, Vanair offers a variety of these rotary screw air compressor/generator systems delivering a powerful 30 to 1000cfm of air with with a 9.6 kW AC generator.
Vanair Product Categories
Related Articles (7)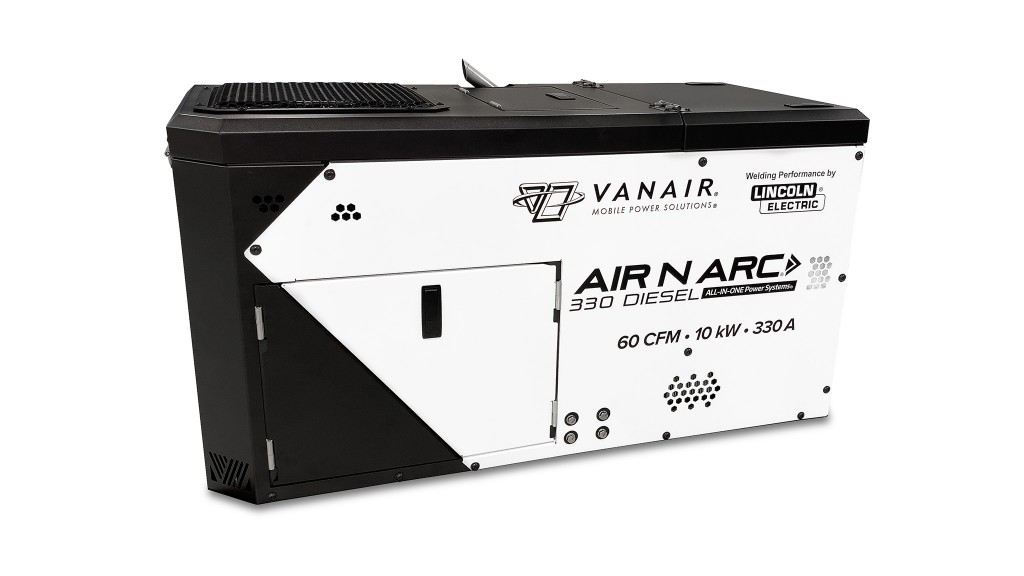 Vanair teams with Lincoln Electric to develop all-in-one power and welding system