Manufacturer
| | |
| --- | --- |
| Address | 815 Weiler Drive, Knoxville, IA, 50138, US |
| Phone | 647-828-6622 |
| Website | weilerproducts.com |
| Follow Us | |
About
Located in Knoxville, Iowa, Weiler manufactures equipment for the paving market. Weiler products are based on proven designs that have a successful track record in the field.
Weiler is a cutting-edge manufacturer with 196,000 square feet of manufacturing space. The facility is equipped with machining tools, welding, powder and wet paint and assembly, allowing Weiler to better control quality and delivery for the majority of their machine components.
The base designs for our self-propelled road wideners and asphalt windrow elevators were created by Barber-Greene, a company that was purchased by Caterpillar® in the early 1990s. Weiler purchased the designs from Cat® in 2005 and established the Weiler brand name. Since then, we have made updates based on input from our customers and introduced extensions to both lines as well as expanding the Weiler line by adding self propelled material transfer vehicles, a commercial paver, static rollers, combination compactor, tack distributors and highway class front mount screeds. Our mission at Weiler is to continue to invest in improvements and fill other needs of the market.
Weiler products are available exclusively at Cat® dealers throughout North America.
Video: Weiler E1250A Remixing Transfer Vehicle
Weiler E2850 Remixing Transfer Vehicle
The E2850 is designed to keep demanding jobs moving with 25 tons of on-board storage providing increased trucking efficiencies while allowing for non-contact, non-stop paving.
Weiler E1250A Remixing Transfer Vehicle
The E1250A features an industry leading cost-per-ton of asphalt placed while providing a true remix of material through the patented twin-interlaced auger remix system for non-contact, non-stop paving operations.
Weiler P385A Commercial Paver
The balanced design of the P385A delivers versatility and durability to the commercial paving contractor. The Cat C3.4B Tier IVi engine with 100 HP delivers quiet power to the 18,000 lb. paver. Independent control of the left and right side feeder system enables variable width paving.
Weiler Road Wideners
When it comes to placing the right amount of material at the correct grade and slope in one pass — whether on a shoulder or elsewhere — the best equipment for the job is a Weiler road widener, available in four convenient sizes capable of widening up to 14 feet.
Weiler Windrow Elevators
When you're searching for those smooth ride bonuses, a Weiler elevator is sure to best meet your needs. The E650B and E550B windrow elevators offer 115-horsepower, Cat C4.4 Tier IVi engines designed to handle the toughest conditions while exceeding expectations.
Weiler Product Categories
Related Articles (13)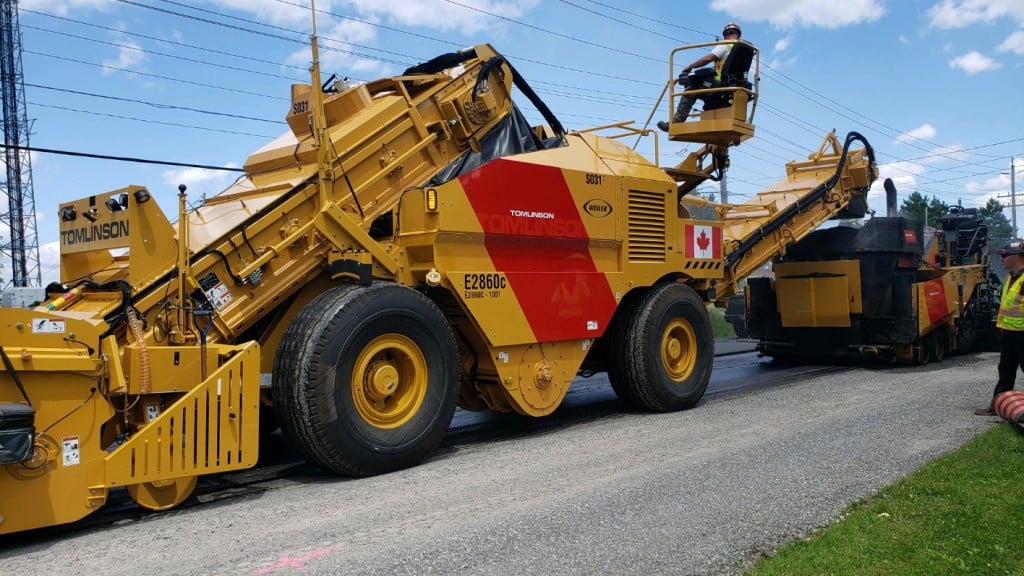 Innovation in asphalt paving, quarry, and more on display by Weiler at CONEXPO