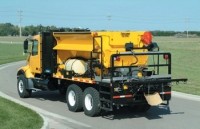 Bergkamp Inc. will display the new EM-CAD (pronounced M-Kad) system on its advanced M310 slurry seal/microsurfacing paver. EMCAD – which stands for Electronic Mix Control and Diagnostic system – allows contractors to quickly evaluate their production and make adjustments, while the machine is working, to more accurately calculate their bottom line and execute the job.

The EMCAD system simplifies material calibration and shows current and average material ratios, total material used and material rates to efficiently track costs and production. This advanced system also assists with onboard control troubleshooting, and comes standard on Bergkamp's new M3 Series and is optional on its M1 full-size continuous paver.

Bergkamp will also conduct one-on-one business development meetings and display its Variable-Width Spreader Box at the show. The width of the Variable-Width Spreader Box, which works on slurry seal/ microsurfacing pavers, expands and contracts while placing the material, providing flexibility for any shape job.

The educational meetings will provide contractors not currently in the slurry seal/ microsurfacing business with valuable information to decide if it is right for them. Bergkamp can create programs specifi-cally tailored to each contractor's business.