Increased engine torque on upgraded wheel loader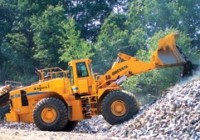 Dressta's 555C is an upgraded version of the six-cubic-yard 555 and 555B models. While retaining excellent breakout and digging ability, the 555C upgrades range from increased engine torque to a more comfortable operator environment.

Improvements start under the hood with a new and larger Cummins QSX-15 Tier II engine that meets all Tier II emission requirements. Power is still at 315 net hp, but an increase in displacement raises maximum torque to 1,182 foot pounds, a five percent increase.

Company info
Related products