Gencor training for better performance and efficiency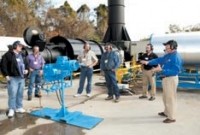 Improving production and efficiency are common concerns for plant owners and operators. Having a well-trained technical crew is paramount to maintaining plant performance and efficiency.

In 2008, the training program at Gencor is offering both basic and advance courses. The training staff represents the largest concentration of knowledge and expertise in the sciences and technologies involved in hot mix asphalt production, the company reports. Because of this, Gencor is the only company exclusively designing, manufacturing and servicing asphalt plants.

Customers attending these events benefit from having the support and focused attention of the industry's best asphalt specialists. During the four-day, hands-on training program, participants learn the latest techniques on optimizing production efficiency. They have the use of Gencor's cutting edge, control simulators and equipment as their experts take attendees step by step through a comprehensive and highly concentrated program. To secure a seat, registration must be made no later than December 15, 2007.