iVISOR mentor graphic load moment indicator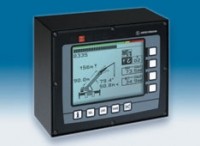 The Hirschmann iVISOR mentor QVGA (graphic) load moment indicator (LMI) for mobile cranes provides operators with a graphic display of the crane and the current load and geometric information, including the actual and allowable load, boom length, boom angle, and load radius. The display also includes an integrated bargraph which provides the operator with information on the cranes utilization.

The systems central processing unit and operators console are integrated into one compact unit making for quick and easy installation. In addition to the freely programmable control functionality, two CANopen interfaces enable networking with other controls and displays. The LMI system can be used as a CANopen master or as a CANopen slave. It can also communicate with other CAN Bus capable devices via the CAN Bus interfaces which support the CANopen protocol and J1939.