'Safety Superheroes'
To be Honoured at 6th Annual Lieutenant Governor's Awards for Public Safety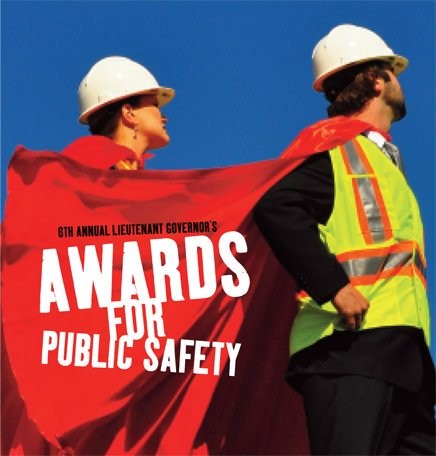 Three 'Safety Superheroes' have been selected to receive BC's highest safety honour at the 6th Annual Lieutenant Governor's Awards for Public Safety on November 23, 2010.
The awards, presented by the British Columbia Safety Authority, recognize individuals and organizations who demonstrate exceptional leadership, achievement or innovation in the promotion of safety in BC.
"We are proud to announce the 2010 award recipients," says Harry Diemer, BCSA President and CEO. "Their personal dedication to the promotion of safe practices, procedures, behaviours and attitudes are great examples of the commitment needed to keep communities safe for us all."
Recipients of the Lieutenant Governor's Awards for Public Safety are chosen by the Safety Selection Committee, which includes a senior staff member of the BC Safety Authority and respected individuals in the safety field from seven other organizations.

2010 AWARD RECIPIENTS
Donald Dahr, WorkSafeBC – Lifetime Achievement Award
Throughout his more than 20 years at WorkSafeBC, Donald Dahr has dedicated himself to improving the safety of workers in the province. Dahr has worked tirelessly to influence industry leaders, launch provincial safety initiatives and tackle long-standing hazards and safety issues. With each challenge, Dahr has brought creativity, innovation and passion and is relied upon for his knowledge and experience as well as his diplomacy and inclusive approach. Dahr has led or partnered many significant safety projects including; Resource Road Demonstration Project, Stop Check and Correct Program, BC Faller Training Standard, TruckSafe and the BuildSafe conference, among others.

Bill Meechan, Meech Safety – Exceptional Contribution to Public Safety: Individual Award
Devoted to occupational health and safety for 27 years, Bill Meechan is described as a man with integrity and vision. Always believing that management creates a climate for either good or poor safety, Meechan became the face of safety at the Washington Marine Group (WMG) where he worked for 10 years. At WMG, Meechan was instrumental in changing the company culture towards safety by initiating the "33 to 3" campaign, which represented the lost time frequency at WMG when he arrived in 1999. Through his hard work, WMG achieved a 72 per cent reduction in the injury rate during his tenure.

BC Road Builders & Heavy Construction Association (BCRB)— Exceptional Contribution to Public Safety: Organization Award
Established in 1966, BCRB is the recognized advocate for infrastructure development. Working on behalf of its members and for the public good, the association promotes and lobbies for a balanced, safe transportation system that both sustains and promotes provincial economic growth. Over the years BCRB has spearheaded a number of programs to ensure both quality of work, safety of practices and continued development of employees, including the establishment of the Construction Safety Network.

THE AWARDS LUNCHEON
DATE: Tuesday, November 23, 2010
TIME: 11:30 a.m. to 2:00 p.m.
LOCATION: Vancouver Convention Centre (West)
Tickets to the event are $75 per person or $600 for a table of eight guests. A ticket order form may be downloaded from the BC Safety Authority's website at www.safetyauthority.ca/events
The BC Safety Authority mandates the safe installation and use of technical equipment. The BCSA also issues permits and licences, educates, and conducts on-site inspections in high-risk situations.

Company info