Powerful Solution to Concrete Raking Woes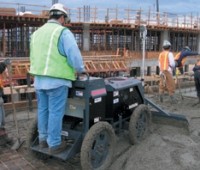 Somero's new PowerRake is a time- and labour-saving device for freshly poured concrete.

The PowerRake takes the backbreaking work out of raking freshly poured concrete. It is a one man, laser controlled, 4-wheel drive ride-on raking system designed and built to deliver better and faster results with fewer people on the job. It significantly reduces the time needed to set up floors for screeding. The crew will get closer to a finished grade using the PowerRake, delivering more accurate results than ever before.

Revolutionary in concept, its unique design allows a single operator to ride on the machine and rake the "dumped" concrete down to grade in less time, with no manual labour. The PowerRake can grade material to +/- 1/4-inch accuracy using a laser-referenced plow blade. It rakes and maintains an even height of concrete across the entire placement area. The PowerRake is designed to work with all screeding equipment; from the 2 x 4 to the handheld vibrating screeds on up to the Copperhead Laser Screed and even Somero's large Laser Screed. By reducing the time it takes to place a floor, the PowerRake reduces crew fatigue, leaving them fresher for the finishing stages of a floor.

This patented, proven Somero Laser Screed technology, with its four-wheel drive system and rugged power train, gives plenty of traction in varied depths and different slumps of concrete. A sophisticated combination of horsepower and hydraulics allows the machine to move a lot of mud around.

The PowerRake performs equally well driving in either direction and can push or pull concrete with ease, no matter what the slump. With a tight turning radius, the operator can work in close proximity to the screed as well as in smaller spaces and in tight spots.

The PowerRake cuts crew costs substantially, and potentially leads to fewer on-the-job injuries.