Self-contained hydraulic concrete slab buster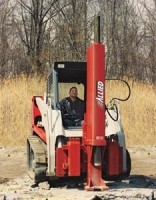 The Allied Hammerhead II is a totally self-contained hydraulic concrete slab buster designed to demolish concrete flatwork. The concrete is rubblized at a 45-degree angle from the point of impact. This concrete flatwork includes floors, driveways, bridge decks and roadways up to 12 inches thick. Utilizing only three moving parts, the Hammerhead II offers a simple, rugged design that minimizes maintenance and repair costs.

Hammerhead II will operate either vertically or horizontally on any concrete surface. An internal hydraulic cylinder and valve system compresses a heavy compression spring set. This spring set "loads" the system with 3,350 psi of hydraulic pressure. On the return stroke of the cylinder, Hammerhead II releases the trigger mechanism. This mechanism causes the four inch impact bar weighing 388 pounds to "fire" at the concrete with up to a 4,000 foot pound energy class impact force.

The Allied Hammerhead II Model HB 550 is a 1,130-pound hydraulic concrete slab buster that mounts easily on a 5,000-to 9,000-pound skid-steer, 7,000- to 15,000-pound mini-excavator or 9,000- to 16,500-pound loader/backhoe.