Rear-view camera improves safety around vehicles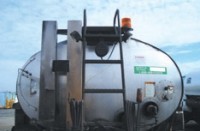 According to the U.S. Department of Transportation, 27 percent of all vehicle accidents occur in reverse. Each year there are over 300,000 reversing accidents in the U.S. alone. In efforts to reduce the risks posed, UK manufacturer, Brigade Electronics has developed a range of reversing safety products. The company's Backeye rear-view CCTV systems are proving to be some of the most popular on the market.

The product catalogue includes an array of rear-view cameras, monitors and control units. There are currently seven Backeye monitors available in the U.S. and four different cameras. Cameras and monitors can be mounted inside or out, maximizing the safety of individuals, vehicles and other property.

The 800 series is Brigade's latest range. Its monitors offer multi-camera capability, allowing rear, forward and side views. Additional information, such as satellite navigation data, can also be viewed on these LCD TFT flatscreen colour monitors.

One model proving popular is the BE-870EM. A widescreen monitor features two camera inputs, two auto trigger signals and automatic picture display. LED backlighting provides high resolution picture definition and doubles the life of the monitor. It can also be configured to a wide range of cameras. Brigade also offers multi-control units that can accommodate up to four camera inputs, providing quad, triple and split screen functionality.