Dana Holding Corporation Announces Enhancements to its Spicer Life Series Driveshafts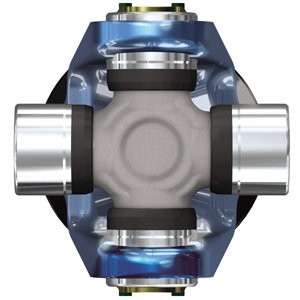 Dana Holding Corporation has enhanced its Spicer Life Series (SPL Model 250 universal joint assembly, resulting in significantly improved product performance and durability.
Designed to meet the needs of new low-emission, high-efficiency trucks in the Class 8 market, the SPL-250 universal joint assembly offers customers more than a 40-percent improvement in dynamic bearing capacity – in the same compact package – to create a driveline with 70 percent more power density compared with it nearest competitor.
"As a trusted partner for innovative technologies and unrivaled service for more than 100 years, Dana is constantly seeking ways to improve our products to meet customers' needs," said Tom DeHaven, Dana senior manager of Driveshaft Products. "As the world's leading driveshaft supplier, these changes reflect our continued commitment to designing products and processes that deliver value, innovation, and best-in-class performance."

The new SPL-250 universal joint assembly utilizes a new bearing package that includes larger needle bearings for increased capacity, a special Viton synthetic seal for improved grease retention and serviceability, and a thermoplastic seal guard to exclude contaminants. In addition, a new premium synthetic lubricant provides further improvement in bearing life through the initial three-year/350,000-mile lubrication interval.

The assembly is also offered with the Spicer Quick Disconnect feature making it easier to service the powertrain.
Roadranger is a marketing alliance of Dana Holding Corporation, Eaton Corporation and other trusted partners, providing a complete line of drivetrain components, systems, lubricants, safety products and service tools, including manual and automatic transmissions, hybrid power systems, clutches, driveshafts, steer and drive axles, brakes, tire pressure management systems and collision warning systems with adaptive cruise control. Truck makers, dealers, owners and service providers are supported by the Roadranger support team – providing specification assistance, training, service, parts and warranty expertise throughout North America.