Wireless scale now installed as option on Benson trailers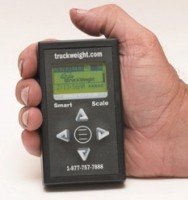 TruckWeight Inc. today announced that its Smart Scale wireless scale for commercial vehicles is now an installed option on Benson International trailers.

Benson International products are designed for flatdeck loads, construction material, and other weight-sensitive trucking applications. Its trailers are marketed through nearly 70 authorized dealer locations in the United States, Canada, and Puerto Rico.

The Smart Scale is also available for sale and aftermarket installation through Benson dealers. "Benson International customers depend on their equipment to help them optimize payload," said Peter Panagapko, president of TruckWeight. "Our wireless Smart Scale produces fast, accurate axle-weight and gross vehicle weight readings so Benson customers can load efficiently and to their maximum rated capacity." Smart Scale measures temperature and pressure changes in a vehicle's air suspension and wirelessly relays this data to a handheld receiver using a low-powered radio transmitter. The result is an axle weight and gross vehicle weight measurement that's within 0.3 percent of the actual gross vehicle weight. The wireless reader has a range of 500 feet line-of-sight, so it can deliver measurements to wherever it's safe or convenient, whether that's in the truck cab or the seat of a loading machine.

Smart Scale provides the durability Benson customers have come to expect. Its waterproof, weatherproof, shock-resistant, and non-corrosive housing requires no regular maintenance. The sensors are accurate in temperature extremes ranging from -40 C to 70 C (-40 F to 158 F) and use common AA batteries.