Screen out rocks and debris for site development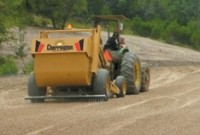 Cherrington used the latest technology and advanced hydraulic engineering to develop a mobile, self-loading screener which lifts the soil onto a reciprocating power screen. Objects larger than the screen size, like rocks, roots and debris, are retained and carried by the loading flights to the hopper, while the screened, clean sand or soil falls back to the ground.

The Cherrington functions exactly like a stationary screener, but on a tractor towed or self-propelled, self-loading mobile screening frame. Screens can be quickly and easily changed to meet different job specs, removing objects from a half inch to 10 inches in diameter, and 3 to 6 inches deep.

Cherrington is 100 percent efficient in that nothing can escape or slip through the powered screen. All the soil is screen clean and returned to the ground for trench restoration, soil remediation, beachcleaning or a perfect seedbed for landscaping.