Terex AWP global organization realignment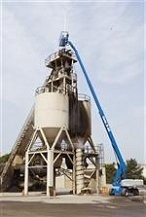 Terex Aerial Work Platforms (AWP), a business segment of Terex Corporation, has realigned its management team to better serve customers. The changes, which take effect October 1, 2010, establish local management teams supported by a global infrastructure that reinforce Terex AWP as the clear global leader in work-at-height products.
"The environment for the aerial work platform industry is beginning to improve," said Tim Ford, President, Terex AWP, "and as the global economy gains strength, we need to be more flexible, responsive and local.
Traditionally strong aerial markets like North America and Europe are recovering and developing markets are accelerating their use of powered access equipment. 2011 and 2012 look like they will bring better times for our industry."
Ford continued, "Customers who buy Genie branded products have come to expect exceptional quality, high returns on invested capital and local support that is always available. Our organizational realignment emphasizes these three areas. As a market leader, it is vital that we leverage the strength of being global while presenting ourselves to customers as a local company in each market we serve. With last year's opening of distribution and logistics operations in North Bend, Wash. and Roosendaal, the Netherlands, along with the anticipated fourth quarter start-up of a production facility in Changzhou, China, Terex AWP is investing globally to ensure customers around the world receive the same level of service, with products produced in local factories and sold and serviced by local staff."
As part of the reorganization, the following reassignments will occur:
Matt Fearon has been appointed Vice President and General Manager, AWP Americas. Matt was most recently Vice President and Managing Director for Europe, Middle East, Africa and Russia (EMEAR). In this newly created role, Matt will have full operating responsibility for AWP operations in North and South America, including sales, product development, manufacturing and aftermarket support. Matt brings 25 years of industry experience and leadership to this newly created position and has a strong background in product development and manufacturing. Fearon will be based in Redmond, Wash.
Joe George, formerly Vice President Global Sales & Customer Care, has been named Vice President and Managing Director, AWP EMEAR. Joe will be based in Terex Corporation's European office in Schaffhausen, Switzerland. As a global executive, having lived and worked in Asia, Canada and the U.S. George brings 32 years of general management experience to his new position and will have responsibility for AWP European based operations, including sales, distribution engineering and manufacturing.
XS Koo, who is based in Hong Kong, remains in his current role as Vice President and Managing Director, Asia Pacific. All operations in Asia, including the anticipated fourth quarter start up of Terex AWP's Changzhou, China facility, are under his leadership. Having worked for leading global multinational companies for over 20 years, Koo brings an expert understanding of Asian markets.
Siva Balakrishnan has accepted the newly created position as Vice President and General Manager, AWP Market and Channel Development. A critical element to supporting Terex's growth over the next several years will be to develop new products and services that augment our traditional offerings to retail rental operators. In this role, Balakrishnan will retain operating responsibility for AWP's 14 service centers and two refurbishment centers, while bringing his 16 years of global experience to identifying and developing new revenue streams and channels of distribution.
Paul Caldarazzo has been appointed as Vice President, AWP Globalization. Having been with Terex since 1999, Paul brings a deep knowledge of lean manufacturing, production, after market and supply chain operations. In this new role, Caldarazzo will develop and deploy global strategies for engineering, supply chain and production as well as provide business wide leadership for the Terex Business System, the operating system that is based on lean manufacturing principles.
"We can't yet declare victory over this violent and deep downturn, but its grips are loosening," said Tim Ford, President, Terex AWP. "As I look ahead, I am more optimistic than ever that Terex has a very bright future. These organizational changes will be a catalyst that enables us to move ahead aggressively in support of new growth."


Company info
18340 NE 76th Street
Redmond, WA
US, 98052

Read more