Machine eliminates risk in moving heavy loads around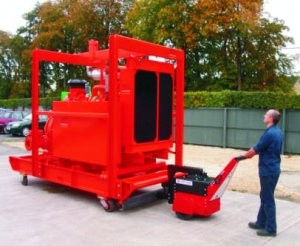 Heavy, big or awkward loads all present the same kind of challenge as you try to move them around. How do you do the job safely, economically and efficiently?Now, Power Pusher Canada has the solution with Super Pusher. It has a push capacity of up to 150,000 pounds (68,000 kg) and pulls heavy loads too.

An operator and a Super Pusher can usually do a job single-handedly. It means no waiting around for cranes or lift trucks or, even worse, tying up a crew trying to shift the load manually and risking injury too.

As well as enhancing safety and ergonomics, a single Super Pusher is versatile enough to handle a range of loads. If it rolls, Super Pusher can move it. For non-mobile loads, the ability to roll is easily achieved by the appropriate placement of a few standard dollies.

Super Pusher keeps the load under control at all times. Custom attachments are available for specific applications. It requires little or no maintenance and is easy to park and store.