Environmental hot mix asphalt facilities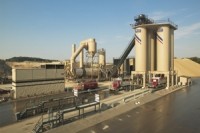 The Gencor Ultraplant features advanced counterflow technology for continuous asphalt production, capturing volatile organic compounds and returning them to the process and exceeding the most stringent emissions standards in the world.

The Convertible Ultraplant lets contractors to operate in a batch or continuous mode. The touch of a button allows switching from continuous to batch operation and back again without stopping. Capacities range from 100 to 700 tons per hour. The plants are available in stationary or skidded models.