Terex Trucks launches Tier 4 Final compliant articulated haulers in North America
For regulated markets Terex Trucks is launching Tier 4 Final compliant articulated haulers that feature new generation SCR and EGR technology.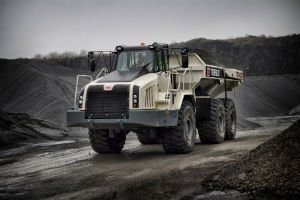 Terex Trucks has announced that a range of articulated haulers that meet the requirements of new US Environmental Protection Agency (EPA) Tier 4 Final emissions regulations will be available in North America from July 2014. The 30 tonne Terex TA300 hauler will be available initially, with the 40 tonne TA400 entering production in August.
Powered by Scania engines, the new articulated haulers not only feature low emissions, but also benefit from proven reliability, good performance and excellent fuel efficiency. Operating convenience is also prominent in the new range, as Terex Trucks' chosen Tier 4 Final system does not require a diesel particulate filter (DPF), reducing maintenance and fuel consumption still further.
A further development of the successful technical package used to meet the requirements of the Tier 4 interim regulations, Terex Trucks' Tier 4 Final system features latest generation Selective Catalytic Reduction (SCR) combined with Exhaust Gas Regeneration (EGR) technology and a Variable Geometry Turbo (VGT). The combination of EGR and SCR, plus a diesel oxidisation catalyst (DOC), increases the efficiency of the SCR process, allowing Terex to meet the demanding emissions regulations in North America.
A 'brake' with tradition
A new feature resulting from the Tier 4 Final technical package is the introduction of a CAN controlled engine exhaust brake. This provides improved reaction and performance of the exhaust brake retardation and higher efficiency of Tier 4 Final after-treatment requirements, resulting in greater operator control and braking in downhill applications, further improving safety.
Commenting on the launch of the new machines, John Poag, the company's head of sales in the Americas said: "Terex Trucks was an early adopter of SCR technology in meeting emissions requirements, and this experience gives us confidence as to the performance and durability of these new machines. Eliminating need for a DPF also means that the Terex articulated haulers provide good performance at a lower cost of ownership."
Company info
Related products