Midwest Port Prepares for More Heavy Lifting
Largest flat-top tower crane in North America erected in Paducah, Kentucky.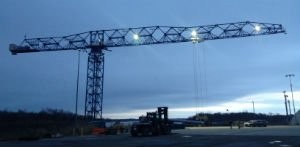 The ambitious multibillion-dollar project to widen the Panama Canal is having wide reaching impact on industries tied to the world's shipping industry and tower cranes are certainly no exception. The expansion will mean that ports need to be able to handle bigger ships, more cargo and faster turnarounds. High capacity tower cranes, like the Linden Comansa 30LC1450 recently erected in Paducah, Kentucky are helping busy ports like the Paducah/McCracken County Riverport Authority (Riverport) deal with today's vessel traffic and be ready for tomorrow.
For nearly 40 years, a 20-ton capacity Linden 8000 flat-top tower crane has handled incoming and outgoing freight on the banks of the Tennessee River where the Ohio and Tennessee Rivers meet. The Riverport has 48 total acres of space and 2,300 cumulative feet of river frontage. The port boasts on-site warehouse capacity exceeding 40,000 tons, outside storage yards and adjacent fleeting and switching service.
"Our Linden 8000 was erected in 1977 and served us well over a considerable length of time," says Ken Canter, Executive Director of the Riverport. "The 20-ton lifting capacity simply wasn't enough for where we anticipate our port to go in the future. With our new Linden Comansa 30LC1450, we have greater market capabilities for the container on barge movements to the Ohio Valley. It's also pretty impressive to have the largest flat-top tower crane in North America ready to serve traffic to our port."
A Riverport on the Move
In addition to its central and accessible location with easy rail and highway access, the Riverport has two dock facilities and can handle up to three barges with different products quickly and efficiently, including bulk and general cargo. The facility has a conveyor system with a 30" belt that can move 500 tons per hour to warehouse or outdoor storage. It is becoming more and more of a strategic and economic advantage by moving products through this up-and-coming inland hub.
"When we were looking to expand our port and add a marine cell," notes Canter, "Linden Comansa was always one of the top contenders in our search for a new crane. Both Linden and Linden Comansa have proven themselves with service, competitive pricing and reliability. We are also looking forward to continuing the partnership we have enjoyed with Heede Southeast."
Big Cranes Mean a Big Transition
Before erecting the 30LC1450 in January 2014, Heede Southeast refurbished the original 1970 series Linden crane in the late 1990's and continued to provide maintenance.
"In the early days, working with a 60 or 75 ton meter crane that was the first flat-top model erected in North America, we really thought we were doing something special. The Linden 8000 tower crane is such a great tool to move material," says Heede Southeast president Dennis Kenna. "Now, with new equipment and over 20 years of history with Paducah River Port Authority, it just makes sense that we should continue that relationship going forward."
With the United States undergoing one of the most difficult winters in recent memory, getting the mammoth crane ready for business was challenging, but not insurmountable for the "Supermen" on the Pineville, North Carolina-based Heede Southeast team. The crane arrived in Paducah on January 17, 2014 and, despite sub-zero temperatures and high winds, the 30LC1450 installation was completed on February 9, 2014.
"Being involved hands on with the installation and commissioning of the largest flat-top tower crane in North America was remarkable," remarks Kenna. "With over 40 years in the industry working with Linden and Linden Comansa cranes, witnessing that machine moving 62,000 pounds to a radius of 191 ft. was a memorable moment for us."
Tower Crane Technology Stands Tall
While the dramatic size of the 30LC1450 sets it apart, the features that the Linden Comansa flat-top tower cranes provide make it an unparalleled choice for heavy-lift work and container cargo in an active port. The 200 kW high-speed motor offers a maximum speed of 259 meters per minute and a minimum speed when loading its maximum 48 tons of 21 meters per minute. The Powerlift system allows for a 10% improvement of the load chart with reduced speeds. This feature, along with anemometer and digital indicators, is standard on all Linden Comansa cranes in the LC3000 Series. As an option for the Paducah crane, Linden Comansa America also included a 'Prohibited Zones' function. The Paducah model is a 48 ton crane, but can also be configured for either 32 or 64 tons.
"The differences in tower crane technology between the old 8000 and the new 30LC1450 are dramatic," says Bill Carbeau, Vice President of Business Development for Linden Comansa America. "Digital readouts for wind, radius and weights are clearly displayed and crane operators can easily monitor all functions for proper operation. In addition, the frequency drives for slewing, trolley and hoisting movements allow for much less consumption of electricity."
For enhanced comfort of the crane operator, the 30LC1450 in Paducah has an optional "Panoramic XL" cab. It includes the advantages of the standard "Panoramic" cabin (acoustic insulation, full view of the load and work area, tinted glass, etc.), but it is half a meter longer. There is enough room for a small refrigerator, an air handling unit and a microwave or any other small appliance. The crane is also equipped with lights to illuminate the jobsite.
With an innovative design that allows the upper part of the jib be folded up and down to save money on transport, the modular design of the LC3000 series enables Linden Comansa to deliver the biggest cranes as a highly affordable solution.
Ready for the Future
The Paducah/McCracken County Riverport Authority moves about 875,000 tons of cargo a year, loading and unloading approximately 400 barges. While there is not a significant amount of container cargo now, the expectation is that this type of freight will increase with the completion of the Panama Canal. In addition to the expansion of facilities, including the installation of the Linden Comansa 30LC1450, the Riverport is applying for Foreign Trade Zone designation to further its capabilities in international shipping and receiving.
Company info
Related products