The new Sandvik Ranger surface drill rig offers Renowned drilling efficiency with up to 20% lower fuel consumption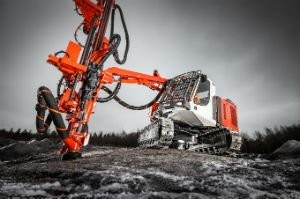 Known to many by their former name, Ranger, Sandvik's DX series surface top hammer drill rigs all feature a revolving superstructure enabling large drilling coverage from the standard 17.6m2 (189ft2) to an USA standard 26.4m2 (248ft2). While able to rotate, the rigs stability is guaranteed thanks to its innovative structure, keeping counterweight at all times on the opposite side of the boom. In addition to these, the rig features, for example, a THC700 drilling control system that automatically adjusts to changing rock formations and sends an optimal amount of power to the rock. This has been designed to ensure smooth rotation, solid rock contact and fast penetration in different rock conditions.
Carrying the names of the renowned Rangers and the Sandvik DX rigs, the new rig has a great deal to deliver. Designed to meet the needs of modern day surface drilling, the Ranger DX800 brings new qualities to the market – the most important one being low fuel consumption. "At Sandvik, we aim at continuously improving the energy-efficiency in our rigs, and low fuel consumption can be considered a distinguishing feature of the entire product line. The new Ranger DX800 is no exception to this rule. The new rig will significantly reduce our customers' operating costs due to its low fuel consumption rates that are achieved with a new advanced eco-package and engine RPM adjustment", says Pekka Kesseli, Vice President, Surface Drilling, Sandvik Construction. Another enhancement is improved tramming force, which has increased by over 10%.
Fewer rounds, more results
Ranger DX800 is equipped with a low-consumption and low emission Tier IV Final CAT 7.1 Engine (168 kW, 225 hp). Utilizing DPF technology with a common rail-type fuel injection system, it is able to produce high torque with lower RPM level. In the Ranger DX800, the standard level of 1800 has been dropped to 1600 revolutions per minute, resulting in significantly reduced fuel consumption. On average, this translates into 5.5 liters/1.45 gallons less fuel consumed per active hour.
While fuel consumption has been significantly reduced, the new Ranger drill rig still promises to provide pertinent power for drilling tasks – even in tough ground conditions. Coming with the well-proven rock drill HL810T as a standard, it can also be upgraded by changing it to a high frequency HF810T drill. "The newer HF810T has successfully been on the market for three years in Scandinavia. It offers around 10 % higher penetration rates and better hole quality than its predecessor", says Mr. Ilkka Lahdelma, Product Line Manager Surface Drills, Sandvik Construction.
Company info
Related products