Liebherr's T 284 Featured in Rise of the Machines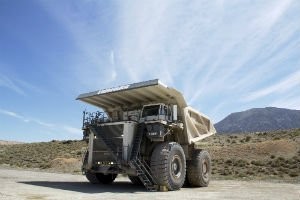 Heavy engineering meets action packed documentary in the History Channel's Rise of the Machines. Using cutting edge photo-realistic Computer Generated Illustration (CGI), this show examines the engineering behind today's "most advanced super machines," which includes the T 284 mining truck. Directed by Peter Gauvain for Windfall Films, the episode shows the truck's performance as well as the engineering that makes it possible. Filmed in assembly at the Liebherr Mining Equipment factory in Newport News, VA and at work on location at a US gold mine, Rise of the Machines offers viewers the opportunity to see the power of the T 284 mining truck.
Don't miss the series beginning on Tuesday, March 4, 2014! Episode 2 featuring the T 284 will be broadcast in the US on the H2 channel Tuesday, March 11, 2014 at 10 pm (GMT-5)/11 pm (GMT-8). After H2, Discovery Channel will air a different version in Canada and Europe. The dates and times for those subsequent broadcasts have yet to be announced.
Use the link below for more details: http://www.history.com/shows/rise-of-the-machines
Company info
Related products