Tadano all-terrain crane uses long reach to meet unique challenge in tight plant lift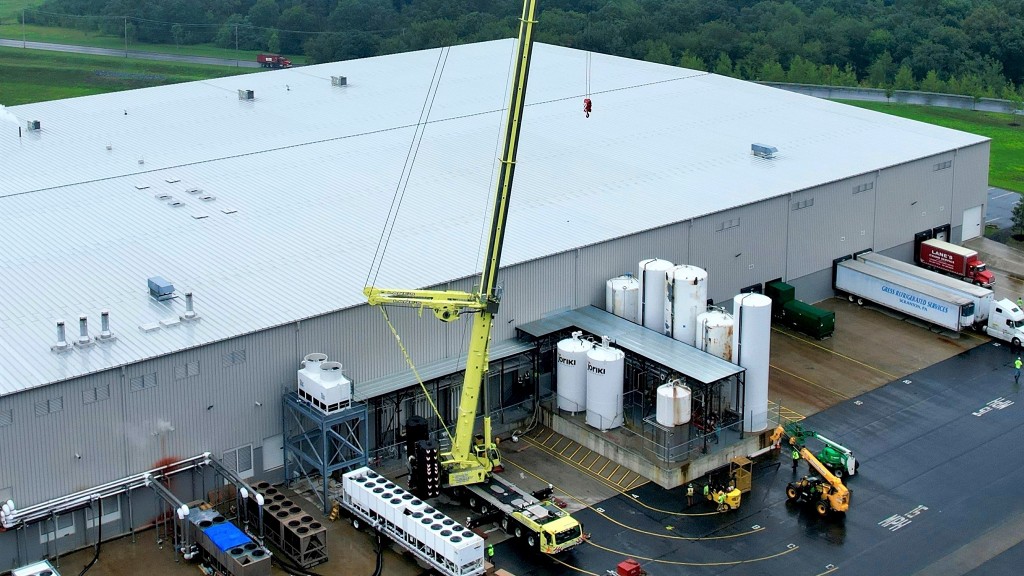 A beverage bottling company in Pennsylvania recently faced a unique challenge: install several large tanks on its plant floor under a 41-foot ceiling joist. The answer to the challenge came in the form of a Tadano all-terrain crane.
An AC 7.450-1 all-terrain crane operated by Lane's Crane Service used its 263-foot main boom, coupled with the Sideways Superlift System (SSL), to eliminate the need for a luffing jib, which saved on transportation costs and setup time.
Matthew Lane of Lane's Crane Service described how well the recently purchased AC 7.450-1 performed on the challenging lift. "We chose this crane due to its long reach and ability to do the job with main boom only, as well as its efficiency when being assembled on site."
Removing the need for a luffing jib meant that the crane operator and two crew members assembled the unit with the 263-foot main boom in SSL configuration and full counterweight in less than three hours. The space required on the construction site was also reduced.
Tadano America All-Terrain Product Manager Hutton Strader adds, "Tadano put a lot of thought into the design of this machine, which is effectively a 7-axle crane that competes like an 8-axle but has the space envelope closer to a 6-axle," said Tadano America All-Terrain Product Manager Hutton Strader. "It's a lot of strength and reach in a relatively compact package."
Lane's Crane Service had some intriguing challenges in planning the lifts. The four 37-foot tanks had to be set upright in the hall, which was only 41 feet high. The only access for the lifts was through the roof. Small rectangular openings in the roof, exactly above the spots where the tanks would be installed, were created and made just large enough for the hook block to fit through. The Lane's team used a 35,000-pound forklift as a "tail crane" to stabilize the tanks during the lift at the other end. Using this technique, the team safely installed all four tanks quickly.
"We were very pleased with the performance of the crane on this project, especially considering this was only the second job for this machine, and the first using the superlift," Lane said. "Everything went seamlessly, the customer was happy, and the operator and crew are looking forward to using this machine on future jobs."