First all-electric CASE mini excavator goes to work in North America
Watch as plumbing contractor takes delivery of CX15EV for use in challenging indoor environments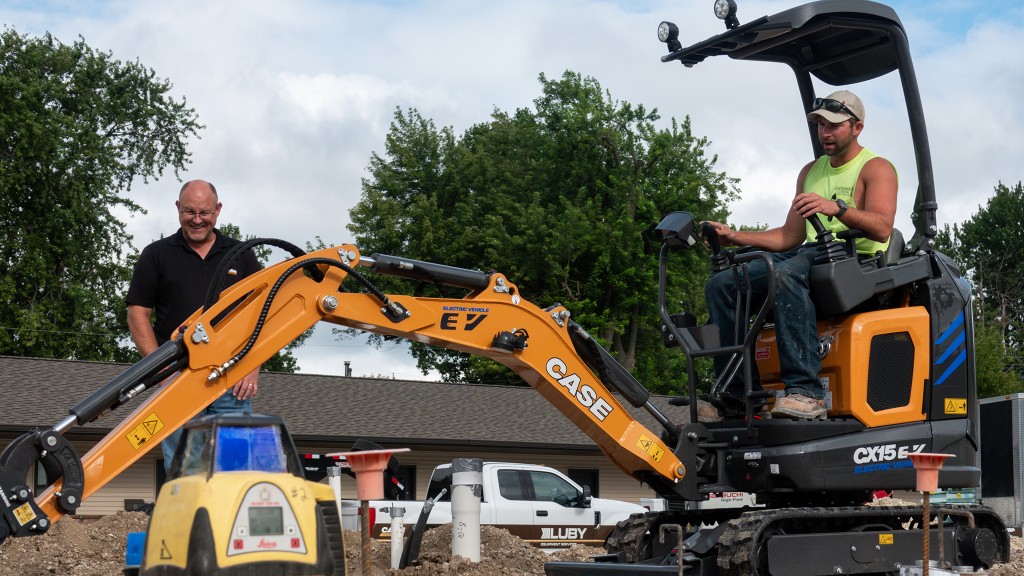 CASE Construction Equipment has marked a milestone in its electrification journey with the delivery of the first all-electric mini excavator in North America to a plumbing contractor in Illinois. The CX15EV is the first model available from the CASE EV lineup.
Jim Brinkman, owner of Brinkman Plumbing Contractors in Quincy, Illinois, took possession of his machine from Luby Equipment. Brinkman's family business does a lot of plumbing excavation, and their team of 30 employees often needs to work in challenging indoor environments such as factories, restaurants, and other commercial buildings. Brinkman asked Luby Equipment for recommendations on an emissions-free machine that could operate safely in any indoor environment, and also fit through a 36-inch doorway. The CASE CX15EV was just the right fit.
"Electrified construction equipment has a bright future everywhere. While EV is synonymous with big cities and municipal needs, the reality is we sold our first EV to a contractor from Quincy, Illinois, a town of 40,000 people. Jim sees the business opportunity for EV in his fleet and he's exactly the type of contractor we innovate for," says Terry Dolan, vice president, North America, CASE Construction Equipment. "With our EV models, we've taken the same approach as we have with every other CASE machine since 1842 - listen to contractors' needs and create solutions that help them get work done easier and more profitably than ever before."
Compact size opens up working options
At a compact 1.5 metric tons, the CX15EV gives contractors power for working both indoors and outdoors where a minimal footprint is required. The new mini-excavator fits through almost any entryway and offers the same working performance as a diesel machine, while delivering key benefits of electrified construction equipment: zero on-site emissions, minimized noise, and less maintenance.
Brinkman said those advantages were important for his company. "Luby Equipment knew we needed a solution that would fit through a 36-inch doorway and recommended the CASE CX15EV. I think we were more excited about this little machine than we've been with any other piece of equipment. This excavator is going to make us more competitive and will save us a lot of headache, time, and backache on indoor jobs."
Easy to transport and capable in a range of environments, the CX15EV is a quiet, emissions-free machine that is also compatible with numerous attachments such as buckets, augers, and hydraulic hammers. That versatility pairs with reduced downtime thanks to simplified daily checks and maintenance.
"I'm happy and proud to say that Jim was the first one to get one of these," says Rob Kuhn, sales representative, Luby Equipment. "I couldn't think of a better customer to put it in the hands of. He'll grow his business with all the interior work he's going to be able to accomplish with this machine."
When the CASE CX15EV mini excavator arrived at Brinkman's shop and Kuhn unloaded the machine from the trailer, Brinkman was surprised to learn he was the first customer in North America to receive one.
"To be able to say we got the first one in North America, to have an all-battery machine - that's pretty awesome for a little company like ours to have that," says Brinkman. "This machine comes with a lot of advantages. It's safer for our guys and it's more productive. It's a win all the way."
Battery provides run time of up to 8 hours
The CASE CX15EV has a battery capacity of 21.5 kWh, and a run time of 4 to 8 hours, depending on application. Using the onboard 120V 1 phase charger, it can be charged from 0 to 100 percent in 14 hours, and from 20 to 80 percent in 8.5 hours. Using an offboard 240V 1 phase charger, charge time from 0 to 100 percent is 5 hours, and from 20 to 80 percent is 3 hours. Other fast charge options are available.
Weighing in at 3,130 pounds, the mini excavator is 2 feet, 7 inches wide with the tracks retracted, and 3 feet, 5 inches with the tracks extended. Maximum dig depth with a 3 foot, 4 inch arm is 6 feet, 9 inches, and dump height is 7 feet, 6 inches.
Watch Luby Equipment deliver the CX15EV to Brinkman Plumbing Contractors
Related Articles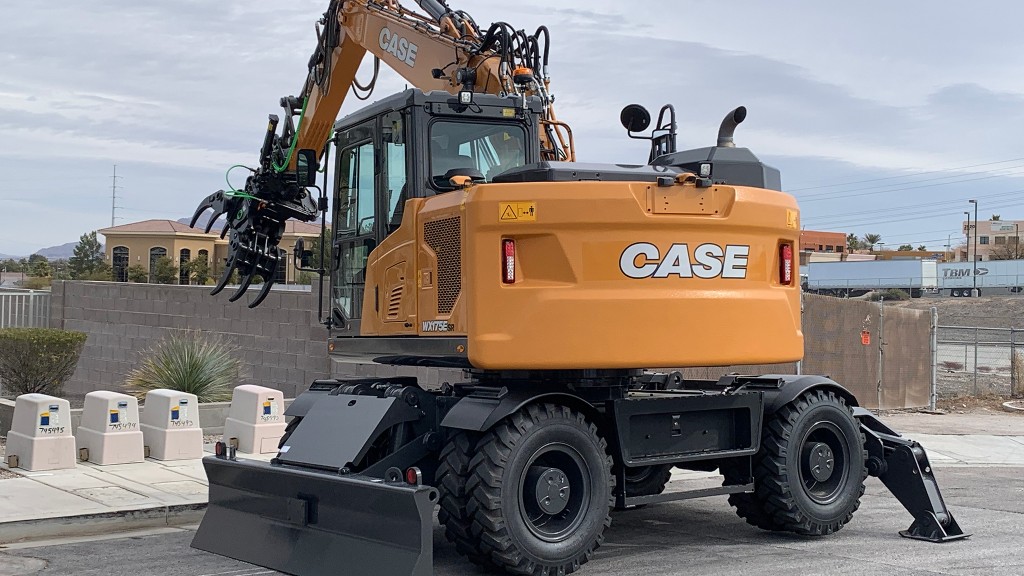 Wheeled excavators, new backhoes, and enhanced dozers lead the way for CASE at The Utility Expo