Popular Cat wheel loader marks 60 years with launch of the new 988 GC
Design updates and technology combine to reduce cost per hour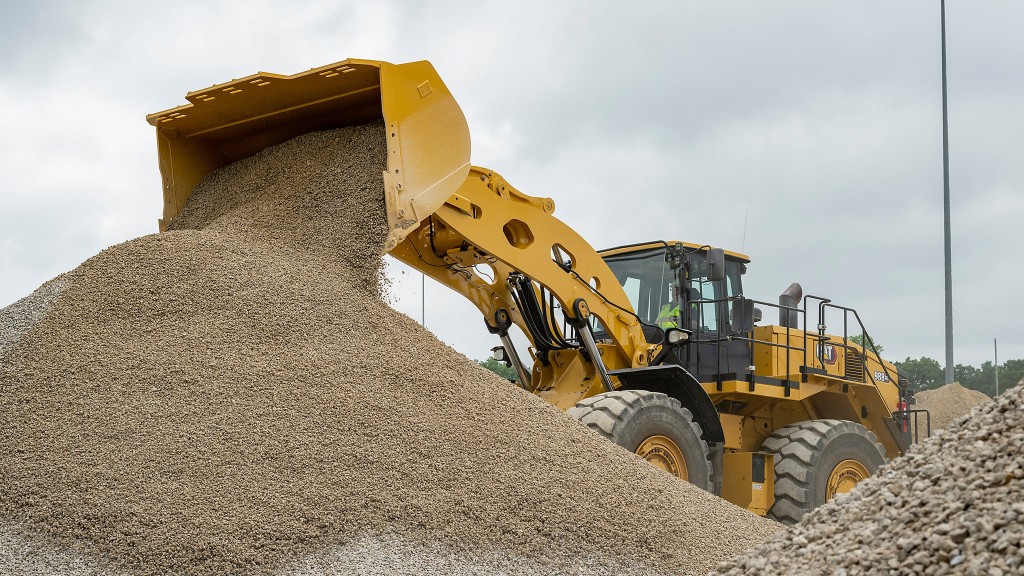 Sixty years ago, Caterpillar launched the 988, a large wheel loader that has become a mainstay of many operations, especially in the aggregates sector. The latest entry in this popular line of machines is the new 988 GC.
Cat's GC line of machines are focused on lower costs with high output, and the 988 GC is no different. It matches the 988K - introduced in 2013 - in many areas, while improving fuel economy and efficiency to reduce total cost of ownership.
The 988 started its run in 1963, when the first of these articulated wheel loaders rolled off the assembly line and into service. At the time, it boasted a five-yard bucket and a 300 horsepower engine. Over the years, it has been updated many times, and for the past ten years the 988K has been a workhorse for aggregates and other large earthmoving operations.
What's new?
Compared to the 988K, Caterpillar says the 988 GC offers:
5 percent less fuel use thanks to more efficient systems
15 percent lower maintenance costs through new designs, advanced filtration, and other updates
47 percent quieter operation thanks to STIC steering
10 percent lower total cost of ownership
Updates include:
Efficient Cat C15 engine, paired with the Advanced Power Electronic Control Strategy (APECS) transmission and Cat torque converter
Load sensing hydraulics to better and more efficiently direct flow
Advanced hydraulic system filtration for longer life
Power and productivity at a lower cost
Caterpillar's GC series of machines are designed to be sturdy, ready to use machines with a lower total cost of ownership, and the 988 GC fits right into that mold. Cat's goal was to reduce the overall cost per hour on the new machine, and the company says the 988 GC offers up to 5 percent less fuel costs and 15 percent less maintenance costs than the 988K.
The 988 GC is designed to maximize life-cycle value in moderate production applications up to 2,000 hours per year, Cat says, and in that use it delivers production within 6 percent of the 988K in truck loading applications.
It matches well to 50-ton trucks with a 12.8-foot dump clearance that delivers efficient loading to the Cat 775G. Bucket payload is matched to the 988K, allowing the 988 GC to deliver up to 740 tons/hour productivity in shot rock truck loading applications, and up to 581 tons/hour for load-and-carry. Available buckets range from 8.3 to 10 cubic yards.
Under the hood, the 988 GC is powered by a Tier 4 Final/Stage V compliant Cat C15 engine, generating 449 horsepower. It is paired with the Cat torque converter with standard lock-up clutch, which eliminates losses, lowers system heat, improves travel times, and reduces cycle times in load-and-carry operations. A cooling package offers higher heat rejection with an on-demand fan strategy and two available fan speed settings.
Cat's Advanced Power Electronic Control Strategy (APECS) transmission offers consistent, smooth shifts, long life, and improvements to efficiency. Forward momentum and torque are maintained when shifting for greater momentum on grades. The transmission neutralizer pedal extends service brake life and allows full power during stationary loading.
The 988 GC features load sensing hydraulics, which direct flow to implement and steering systems only when needed. An optional ride control system adds an auxiliary accumulator to the lift circuit for smoother rides in load-and-carry work.
Design features to improve uptime will reduce maintenance costs by up to 15 percent compared to the 988K, Cat says. New advanced filtration in the hydraulic system improves performance and reliability, while ground level or platform access to grouped service points makes servicing more convenient. Easy access is available to daily checks through access doors on both sides of the engine compartment. There are centralized ground level grease points and sight gauges to simplify daily grease and oil checks.
Smoother controls improve operator comfort
Operation of the 988 GC is smoother and more responsive thanks to the Steering and Integrated Control (STIC) steering, which features up to 47 percent quieter operation. A comfort seat and seat-mounted implement pod, intuitive operator interface, touchscreen display, and easy-to-use soft detent implement controls all add to a more comfortable experience for the operator.
Integrated technologies like Product Link aid in monitoring, managing, and enhancing job site operations. A standard rear camera provides improved visibility, and Cat Detect technology can be added to improve awareness of people and objects around the machine.
Cat Payload is available as an option, displaying data in real time to improve productivity and reduce overloading.