Mining aggregates to build tomorrow
How Caterpillar's 992 wheel loader platform helps Mainland Construction Materials produce aggregate products to meet the demands of a growing world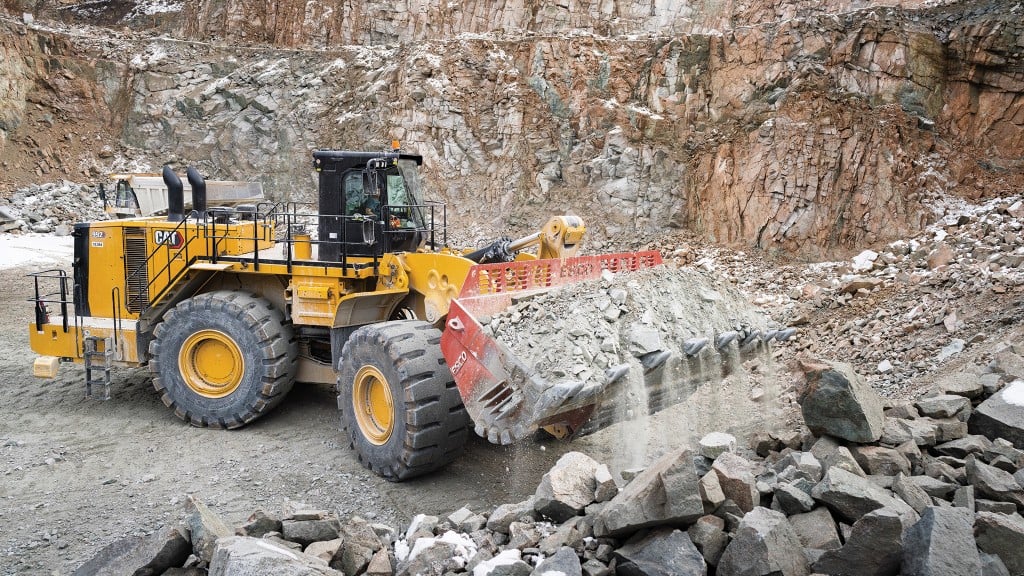 At the farthest navigable point up the mighty Fraser River nestled at the base of Sumas Mountain, British Columbia, sits Mainland Construction Materials' 400-acre Cox Station Quarry.
The Cox Station Quarry dates back to the 1940s when Canadian National Railway held ownership, producing rail ballast. As a by-product, tonnes of screenings remained on site. This spurred the acquisition of Cox Station by Mainland Sand and Gravel in 1983. Mainland Sand and Gravel began its work at Cox Station by cleaning up and selling off this waste material as value-added road base. As that supply was exhausted, the company moved to screening and crushing the alluvial gravels and then took to the hills to begin drilling, blasting, processing, and exporting granite rock from the site in the early 1990s.
In 2014, Mainland Sand and Gravel was acquired by Summit Materials, a Denver-based construction materials company. From this acquisition, the name Mainland Sand and Gravel changed to Mainland Construction Materials. The acquisition also spurred the upgrade of Mainland's processing plant in order to position itself to meet future market demands.
After careful consideration, Superior Industries was awarded the two-phase contract for construction of a processing plant and to update the barge loadout system. The plant improvements have increased production to approximately 800 to 1,000 metric tons per hour. The primary crushing circuit starts with a MK-1 Allis Chalmers 54-74 gyratory crusher, which served an early part of its life at the Similco Mine (now the Copper Mountain Mine) in Princeton, British Columbia, before coming to the Cox Quarry. Secondary crushers include a Sandvik CS and CH-660 crusher, with two Superior Patriot P-400 cone crushers to follow in a tertiary role.
Competitive advantage in the aggregate industry is important for growth and success. Given that Cox Quarry is located on the back side of a mountain, trucking material off site like other aggregate operations is not necessarily feasible. Mainland Construction Materials was quick to realize this and sought to streamline exporting product by upgrading a unique river barge loadout system already in place. Connected to the adjacent processing plant and quarry, barges can be loaded simultaneously by a conveyor system. The loadout facility can handle four barges at once, loading a few thousand metric tons of granite rock product onto each barge. Once loaded, barges navigate the Fraser River to one of four downstream distribution yards where product is delivered to the marketplace by conventional on-highway hauling methods. Today, Mainland Construction Materials provides regional markets with various grades of locally sourced quarried granite rock product.
New wheel loader helps achieve production
It's always a treat visiting the folks at Mainland Construction Materials – as a well-established and professional mining company its operations and calibre of people certainly impress. While every piece of equipment and employee is important, Mainland's new Caterpillar 992 wheel loader is very significant to the Cox Quarry operation. As a production machine, it is responsible for keeping blasted rock (muck) moving from the active face to the primary crusher via a fleet of Caterpillar 775G and F series haul trucks. Without a constant and consistent feed of muck to the crusher, the crusher and processing plant wouldn't be able to produce the aggregate product that the world needs.
The benefit of a wheel loader over an excavator or hydraulic shovel in a quarrying operation is the ability to quickly relocate to any active work area in the quarry, or even load and carry material. This enables Mainland to strategically place its production wheel loader in various areas of the quarry to suit the mining plan or daily site conditions and achieve production targets.
Prior to acquiring the new next-generation 992 wheel loader, Mainland owned a 992C then ran another manufacturer's machine before choosing the 992 platform for the production wheel loader at the Cox Quarry operations. When it comes to mining aggregate, a quality production machine plays a key role in helping companies like Mainland produce valuable end product for its customers.
Given Mainland's Cox Quarry location on the back of Sumas Mountain, bringing the new 992 in by truck would mean breaking it down into multiple loads to meet weight and logistical requirements on the steep narrow winding road into the Cox Quarry. Instead, the 992 and all components were loaded onto a barge and brought up the Fraser River landing at Mainland's barge loadout facility on December 24 at 4 a.m. – just in time for Christmas. Mainland's new 992 is currently sporting a 16.5-cubic-yard ESCO rock bucket, a three-pass match at 20 metric tons per pass for the fleet of 775 rigid frame haul trucks. The bucket is armoured to meet the tough and abrasive demands of Cox Quarry granite which bears a high silica content of 70 to 77 percent.
Up in the cab – an unparalleled operator experience
Caterpillar focused on empowering the operator to be as productive as possible in its line of next-generation equipment. From providing comfort to equipping operators with technology at their fingertips, it's all there. At ground level, getting up on the machine is an experience in itself. Large walkways on either side lead up to a large patio-like space atop the 992 and right into a luxurious cab. Quarries like Mainland run year-round to produce the necessary aggregate products for a growing world. That means operators often start early and finish late in the day regardless of available daylight throughout the year. The new 992 provides illuminated access up onto the machine at the start and end of shift, which is an incredibly important feature that helps keep the operator safe in low ambient lighting conditions.
James, production wheel loader operator for Mainland, mentioned "The first wheel loader I ran when I got started in the industry, an old Clark Michigan loader, didn't have walkways and ladders like this machine does, they have come a long way since then." Up in the cab, the experience is fantastic as operators are greeted with a spacious layout offering ample room for the operator and their belongings, dual 10-inch touchscreen interfaces, excellent visibility, and even a built-in lunch cooler behind the seat. In the seat, the controls are similar to previous iterations of the 992 with an evident enhancement to ergonomics of the joystick steering and fingertip lever controls for boom and bucket functions.
Anyone who says operating isn't a physical job certainly hasn't worked in a production mining setting. It draws a lot from the operator both mentally and often physically if conditions are challenging. Making the cab a pleasant experience to reduce fatigue during and after shift is important to keep the operator – and ultimately the mining operation – productive. One thing quite surprising is how quiet the cab is inside - given that there is 800 hp of Cat C32B diesel engine powering a machine that is scooping blasted rock. You really don't hear much at all, and it's wonderful for the operator. James explained, "The spacious cab, compared to our previous wheel loader, and integrated technology, like adjustable rim pull and real-time payload scale, are fantastic. Even the small details like three windshield wipers up front and the full catwalk around the front of the machine allows me to keep the windshield clean." While James boasts over 17 years of experience operating Mainland's production wheel loaders, features like real-time payload allow him to monitor target haul truck loads and in turn optimize the haulage of blasted rock to the crusher - which makes this experienced operator even more productive
Partnership yields success
In the quarry business, it is not about how much money you make, it is how much you keep. Features like real-time payload, rim pull adjustment, automating critical digging cycle elements, extended component life and service intervals, and reduced fuel consumption all contribute to reducing costs for Mainland and help them mine better. Take, for instance, reduced fuel consumption over the company's previous production machine. The new Caterpillar 992 cuts fuel consumption from 110L/hr to roughly 70L/hr. Or consider technology like adjustable rim pull and automated digging cycle elements which directly contribute to reducing tire wear through proper technique when digging. These ultimately translate into cost savings by extending tire life, an inherently expensive component of rubber-tired machines in mining. Extrapolated over a month, or even year, the cost savings from reduced fuel consumption alone are huge for Mainland, allowing them to invest into other aspects of the Cox Quarry operation.
For a customer like Mainland Construction Materials, which relies on the 992 wheel loader at the heart of its operation to produce aggregate, it is incredibly valuable to partner with a company like Caterpillar and its dealers. Colin, equipment manager for Mainland Construction Materials, explained "Every quarter I'm part of a call with Caterpillar and our dealer. They really care about our success, listen to our feedback, and help us address any issues that we may have with current products in the field." Building on the success of previous 992 iterations, Caterpillar has delivered a full package with this new machine which is ultimately helping companies, like Mainland Construction Materials, mine better.
Mainland Construction Materials focuses on meeting the aggregate demands of tomorrow
With a firm reputation in the industry, Mainland Construction Materials is proud that it has differentiated itself by growing horizontally rather than vertically with its goal to offer and deliver a selection of quarried products that is unmatched in Western Canada.
Aggregate products are key to the foundational aspects of our society, including highways, roads, bridges, schools, hospitals, and even decorative rocks in the front yard of homes. Quarried rock products make modern civilization possible. Looking ahead, Mainland Construction Materials aims to continue to add value across the marketplace through its quarried rock product offerings.
Mack Plovie is the president and chief dirt enthusiast of Earthmovers Media Group.