(VIDEO) Two new object detection solutions make wheel loader operations safer
Wheel loaders spend a lot of time backing up – but all of that time spent in reverse introduces risk on the job site. At CONEXPO-CON/AGG 2023, we were introduced to the latest object detection and avoidance technology solutions from John Deere and Hitachi.
John Deere Construction & Forestry
John Deere says that its next generation of production-class and utility-class loaders are specifically designed to improve operator visibility and awareness. Select models can be equipped with new vision and object detection technology. This technology can enhance visibility and help detect obstacles that present job site risks.
Object Detection technology, paired with a high-resolution camera and a dedicated display, increases situational awareness. In addition, the vehicle trajectory logic technology overlays the projected vehicle reverse path to illustrate where the vehicle will move next.
Building upon the object detection enhancements, the Advanced Vision System integrates two digital cameras on the side-view mirror frames, helping to provide increased visibility to the sides of the machine. Within the cab display, operators benefit from an integrated view of all cameras, helping to increase spatial awareness with wider views and enhanced clarity.
Coming soon from John Deere is SmartDetect and SmartDetect with Assist. SmartDetect combines cameras and machine learning to help give operators a better view of their surroundings. The system alerts operators when an object enters the machine's projected travel path and provides unique detection alerts for people in the camera's entire field of view. With SmartDetect Assist, the machine will automatically stop before coming in contact with a person.
Hitachi Construction Machinery Americas
Rear obstacle detection is available on the Hitachi ZW-7 wheel loader line with automatic speed reduction available on select models. The system's Assist technology actively intervenes when the wheel loader gets close to an object. Once activated, the system automatically disengages the accelerator. The hydrostatic drive pumps are de-stroked and provide gentle deceleration until the operator either diverts or applies the brakes.
This system has been designed to minimize false alarms. When stockpiling and operating on slopes, the rear of a wheel loader often faces the ground which causes many traditional object detection systems to generate a false alarm. This solution uses multiple accelerometers to disengage the system when the ground would normally set off a false alarm.
Audible alerts, alarm level, and timing of the rear obstacle detection system with automatic speed reduction is determined by the distance to the person or object and the wheel loader's speed. The rear camera provides an image angle of 95 degrees from the rear of the wheel loader. When an object comes within 29.5 feet (9 metres) of the projected wheel loader path, an alarm will sound. When the distance between an object and the rear of the wheel loader closes to 12.1 feet (3.7 metres) the Assist will begin to decelerate the machine.
Related Articles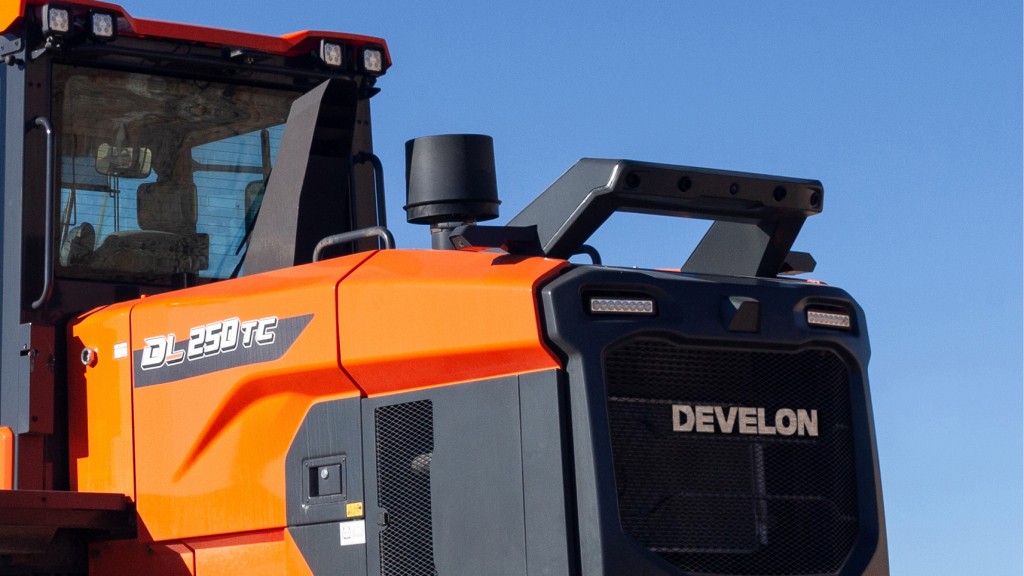 Transparent Bucket, other technology standard on DEVELON next-generation wheel loaders