Telehandler or wheel loader? Get both in one machine
SENNEBOGEN's new 340 G telescopic wheel loader is designed for tough demolition material handling operations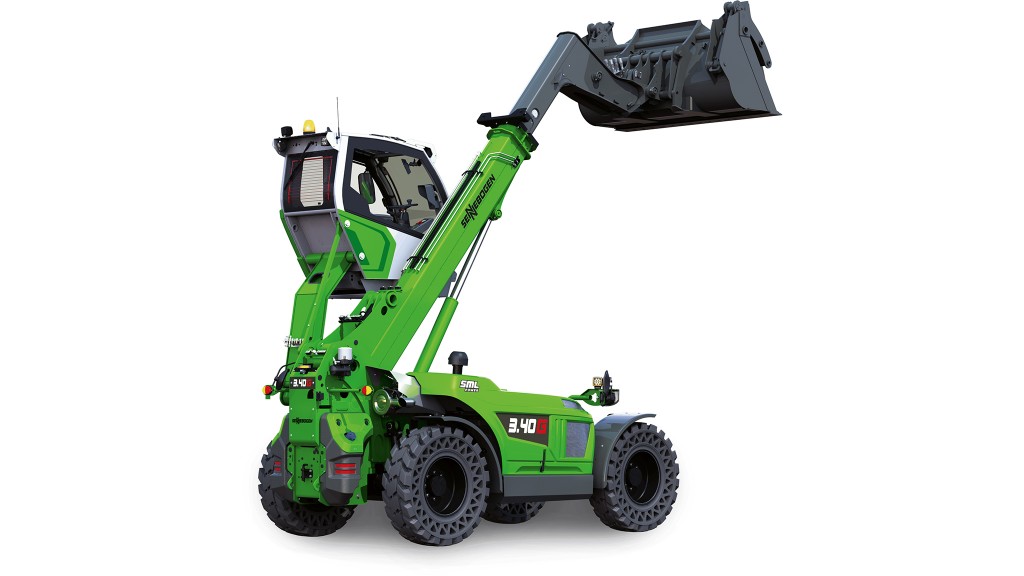 Over the past few years, original equipment manufacturers have introduced machines that combine attributes of separate machine categories into a single new machine type. By combining different attributes and functionalities, these machines offer enhanced productivity and convenience to equipment operators. Some examples include JCB's Teleksid (part skid steer, part telehandler) and CASE Construction Equipment's Minotaur (a compact dozer/track loader).
SENNEBOGEN's innovation journey began by combining the advantages of telehandler and wheel loader technologies into one machine, and the company set out to build a highly versatile, multi-purpose machine while providing far better fuel economy, productivity, safety, and visibility than other material handling options. The result is a 21,000-pound machine which SENNEBOGEN calls a telescopic wheel loader – the 340 G.
Built to meet the demands of tough material handling applications, the 340 G is, above all else, robust and high-performing. A solid-steel frame and a well thought out telescopic boom design ensure reliability and durability in demanding continuous operations. It combines compact machine dimensions, 4-tonne load capacity, a stacking height of 7.70 metres, and a remarkably long wheelbase of 3.10 metres which guarantees stability in every situation.
Heavy Equipment Guide caught up with Colleen Miller, sales manager for SENNEBOGEN North America, to learn more about this impressive new offering. We began by discussing the difference between the European and North American markets.
Telehandlers deliver fuel economy and maneuverability
The 340 G launched in Europe in the fall of 2022 and recently made its North American debut at WasteExpo in New Orleans in May. Telehandlers in North America are most often found lifting on construction job sites and in agricultural applications. In Europe, telehandlers have been prevalent in recycling, demolition, and waste applications for decades. European operators attracted to telehandlers working in these applications have also been far more conscientious and aware of fuel consumption, fuel burn, and the total overall operating cost and the related impacts on overall production and ROI of any given asset.
Speaking about the different equipment markets, Miller says that one key differentiator is the cost of energy. "When you look at what the cost of diesel fuel is over in Europe, it's [North American] pricing times four. Customers are far more conscientious and aware of the cost of their fuel consumption and the total overall operating cost of their equipment because that is what will seriously impact their overall production."
The other difference, Miller says, is the size of operations. "In Europe, the spaces in which they have to operate are typically much smaller. For a facility, you need to make the best utilization of space and maximize your profitability on that square footage."
Limitations of wheel loaders in recycling and demolition waste applications
Wheel loaders are often a key piece of equipment in material handling operations, nonetheless SENNEBOGEN sees a number of limitations when working in confined areas or in yards where space is at a premium. Miller explains, "When you typically see a wheel loader in a recycling or waste application inside a facility, you have it shoving all of the material, pressing up against a wall. Then operators try to drive on top of the material pile to try and elevate the bucket in order to dump material as high as possible."
For an operator, driving up stacks of recyclables can pose some serious safety risks as these piles move and are usually not very stable. Wheel loaders can easily tip over or the machine and operator jostle from side to side.
Visibility limitations are also an issue for wheel loaders in these applications. Miller explains, "Visibility on wheel loaders can easily be compromised because for operators you can't always see what you're doing. In addition, the back of the machine limits visibility causing dangerous safety issues for those that might be working near the machine when it's backing up and coming off the pile."
The 340 G solves this issue by providing the operator with a 360-degree visibility, with its hydraulic lifting cab and curved windows, which enables the operator to be up and over the material and provides a clear view of the material. "An operator does not need to drive on top of material – you can lift the material and stack it up safely. You never want to go into the pile and compress it from the ground. All it takes is one accident, and there is a serious injury or death. SENNEBOGEN looked at this problem, saw the safety issue, and designed a solution," explains Miller.
The 340 G maximizes truck loading
For truck loading, the 340 G offers another key advantage. "When using a wheel loader to load a truck, there's no way for that wheel loader to compress the material in the truck," Miller says. "If you can compress the material and compact it right, then you could put more in one load. Less trucks on the road means less cost for the operation. With the 340 G, you can articulate that bucket down and compress the material so that if you are loading a truck, you still have the ability to compress the material more into each truck for each load."
In addition, when the operator doesn't have to drive the machine into the pile many common machine maintenance issues that affect the undercarriage are mitigated. The 340 G utilizes a one-piece frame ensuring that the undercarriage is fully protected and material cannot get stuck and damage components.
The telescopic boom takes advantage of integrated Z kinematics which gives maximum breakout force, like a wheel loader, to dig into the material. In addition, the 340 G also has lateral guidance using crane geometry enabling 8,800 pounds of lifting capacity. Switching between attachments is easy and convenient with a fully hydraulic quick coupler, allowing the operator to quickly switch from a bucket to a fork.
To minimize idle time, the 340 G is fitted with an automatic shutoff when the operator is not in the cab. This machine is powered by a 3.8-litre Cummins 134-hp engine. For ease of maintenance, the engine package is on a detachable skid that can be pulled out. "It's truly a technician's dream. It's amazing," says Miller.
Excessive heat when operating within facilities can be a big challenge to maintenance-free operations. SENNEBOGEN placed the coolers side by side and the machine comes with a standard hydraulic reversible fan that is manually controlled by a temperature timer. "A huge advantage here is that if an operator sees debris stuck to the mesh of the engine compartment, they can blow it off with a click of a button in the cab. Engine and component damage due to heat is a real concern, so the cooling system is built for heavy-duty 24-hour operations," adds Miller.
Another unique feature of the 340 G is a closed-loop circuit in the gearbox. According to Miller, when the operator breaks into material, an energy recovery system engages providing a 30 to 40 percent fuel saving on this system versus a conventional wheel loader. Nitrogen accumulators provide a smooth ride, and the 340 G can reach a top speed of 40 kilometers per hour. In addition, there are three drive settings: front wheel, all wheel, and crab steering.
Purpose-built for demolition material handling
Most heavy iron used for material handling in recycling and demolition operations is designed and built with earthmoving as a primary application. What SENNEBOGEN has done is create a machine that is designed specifically for handling materials for the recycling, waste, and demolition markets. Miller concludes, "The 340 G is the future of the industry. It's all about safety, visibility, and productivity, and if you as a business are looking for that, in addition to the lowest possible operating cost in the industry, SENNEBOGEN is your solution."