Manufacturers gear up to showcase zero-emission solutions at INTERMAT 2024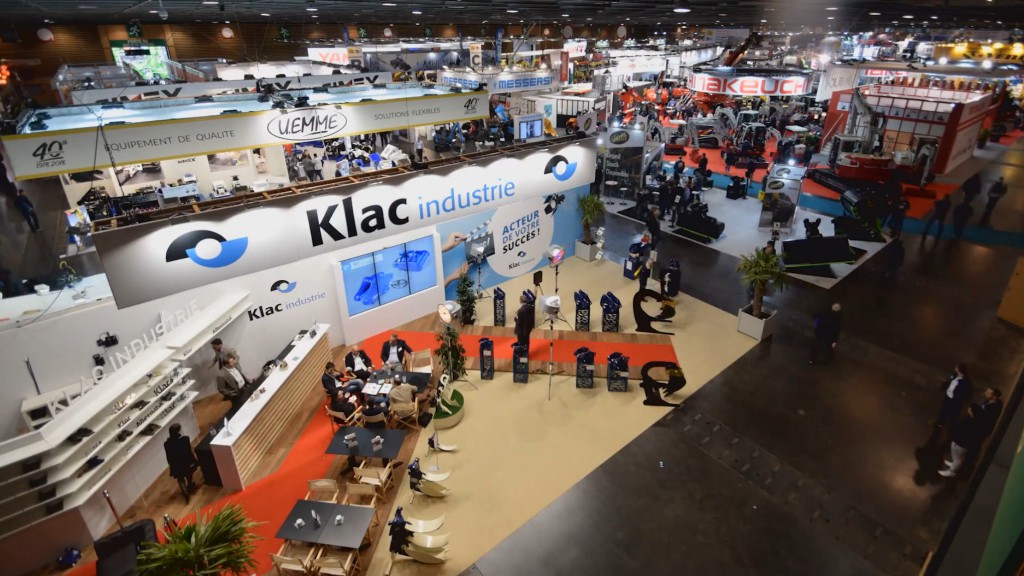 The next edition of INTERMAT, the sustainable construction solutions and technology exhibition, will take place from April 24 to 27, 2024 at the Paris Nord Villepinte exhibition centre. Several international manufacturers have already chosen to attend the event since the last show in 2018. INTERMAT says that the 2024 event will provide a platform for those in the construction industry to showcase how to address emissions challenges as part of France's National Low Carbon Strategy for 2050.
So far, AUSA, Epiroc, Faymonville, Liebherr, Magni, and Volvo have recently joined the list of registered exhibitors. Alphi, Bobcat, Cummins, Imer, Komatsu, Groupe Monnoyeur, Putzmeister, SANY, Sateco, Schwing Stetter, Sunward, Takeuchi, Topcon, Wacker Neuson have been previously announced as registered attendees.
"INTERMAT 2024 has reinvented itself to address the issues of the decarbonization of the construction industry, adapt to environmental constraints, and advance along the road to sustainability," says Davy Guillemard, CEO of Volvo Construction. "As these commitments are particularly close to the fundamental values and ambitions of the Volvo Group, which is resolutely determined to be a proactive leader in change and accelerate on the low carbon path, we have chosen to invite our clients and partners to meet us at INTERMAT 2024 to present them with all our low carbon solutions at their disposal."
"The next INTERMAT show, with its low carbon theme, is keenly awaited by our group which has set itself the goal of cutting its carbon dioxide emissions by 50 percent in 2025 compared with 2019," says François Escourrou, CEO of Wacker Neuson. "To do so we have opted to convert our machines to electric power to support our clients in their CSR policy. We will therefore have a lot of new products to present at INTERMAT in 2024 in terms of equipment, with around 40 new machines in the electric range, but also in terms of associated services and digitalization."
"At PL2M . . . we look forward to taking part in the next INTERMAT 2024 and bringing our contribution to the zero carbon transition of the building sector," adds Olivier Saint-Paul, CEO of PL2M. "The event offers the chance to present new solutions that are resolutely focused on the future, rounding out our ranges of rendering machines, fluid screed pumps, and traditional screed conveyors. Our brands Putzmeister, Lancy, and Brinkmann will be showcased on our stand with a great many innovations for ever higher performances and safety on building sites, and less environmental impact."
INTERMAT 2024 is focused on the four major challenges in construction
The 2024 edition of INTERMAT aims to address the sector's major issues in terms of decarbonization and energy, digitalization, CSR commitment, and training and employment. The show also looked to organize a platform for dialogue with the public authorities. To achieve these goals, the show will draw on four main pillars that will offer highlights and developments featuring these four main challenges.
INTERMAT 2024's four main pillars
Innovate to find solutions to the major challenges faced by construction
INTERMAT has introduced the new Industry Forum for the 2024 show. The forum brings together the five main construction federations DLR, EVOLIS, UMGO-FFB, FNTP, and SEIMAT. These organizations will participate in a series of talks and round tables with speakers, construction professionals, official authorities, French and international special guests, and perspectives from other sectors to address zero carbon issues.
There will also be a World Of Concrete Europe Forum at INTERMAT 2024. The forum is a series of talks dedicated to the concrete industry, the material, and its various applications.
INTERMAT will also award multiple INTERMAT Innovation Awards at the show. These awards are a competition to reflect the sector's new challenges. The competition will have unique visibility before and during the show with a dedicated display area.
INTERMAT 2024 will also host two days of press days. These days will feature workshops and discussions on January 18 and 19, 2024, between exhibitors and journalists.
Incorporate high-performance energy sources to support the economy
At INTERMAT 2024 there will be a brand new Technologies and Energy Hub. This area is dedicated to exhibitors and start-ups and will feature a speaking platform.
There will also be a demonstration zone dedicated to equipment
The show will also feature a demonstration zone dedicated to the equipment of future job sites.
Promote jobs and training opportunities
A space dedicated to jobs and training will be present at INTERMAT 2024. The space aims to give a platform for occupational promotion initiatives, workshops and talks, express job meetings, and more.
INTERMAT Rental Day is a special day devoted to the equipment rental industry with contributions from international experts.
Reaching net zero emissions
For the 2024 edition, INTERMAT redesigned what it offers and its format. The show is four days instead of six and was redesigned in a circular economy approach with responsible products and services. INTERMAT says that the 2024 show aims to be an event offering physical and social access to a wide audience.
INTERMAT's range of exhibitors
At the show, exhibitors focus on a wide variety of industries including earthmoving, demolition, transportation, roads and roadbuilding, materials and foundations, lifting and handling, civil engineering, and the concrete sector.
The 2024 edition will highlight new technologies and energies like electric, hydrogen, natural gas, autonomous vehicles, virtual technologies, and more.
And during the four days of the show, professionals will be able to take advantage of the demonstration zone, an integral part of the INTERMAT DNA, which will offer centre stage to innovative equipment operating in real-life conditions.