Topcon's new integration platform helps streamline heavy civil construction management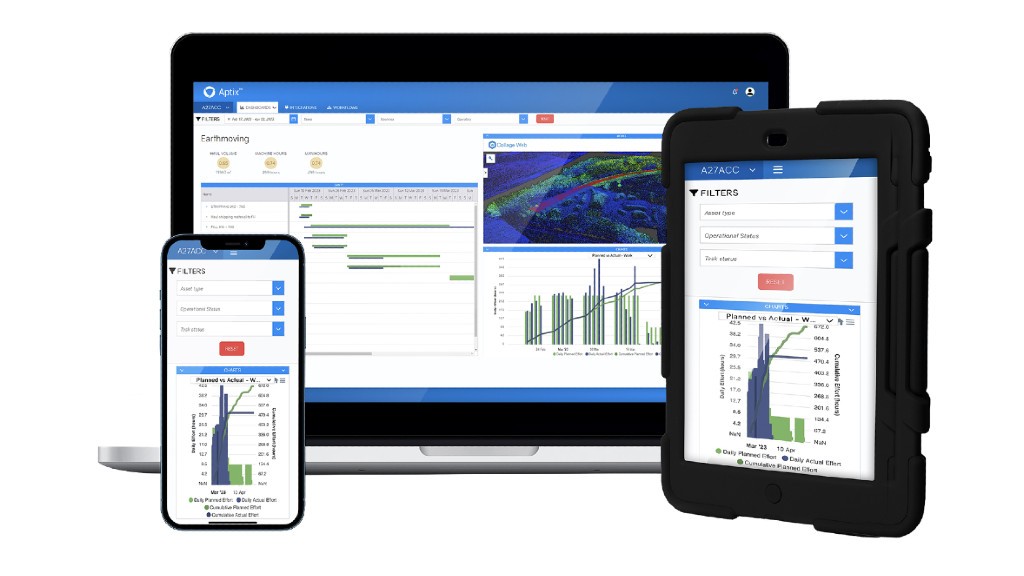 Topcon Positioning Systems has introduced Aptix, a new integration platform-as-a-service (iPaaS) that helps manage heavy civil construction projects. Aptix integrates Topcon platforms with third-party applications to automate and orchestrate data connections between the office and the job site. It generates insights for construction teams within one platform.
Aptix automates the distribution of data, including machine control files, constructible models, project schedules, and reports on actuals. It shows, in near real-time, the location of machines with the ability to aggregate as-built data from mixed fleet telematics. Plus, it provides real-time reports on people, materials, machines, and carbon dioxide emissions.
Aptix can also automate the distribution of constructible models and scheduled task changes. These frequent changes make it difficult to keep management teams, operators, and other stakeholders updated with the most current information. Aptix integrates with applications like Autodesk Construction Cloud and Microsoft OneDrive to help alleviate these issues. Through these integrations and others, Aptix monitors file updates within Autodesk Build, Autodesk Docs, BIM 360 and Microsoft OneDrive, and as soon as a constructible model or schedule change occurs, it automatically distributes these updates, ensuring that operators have access to the most up-to-date models and scheduled tasks and that project managers have the most up-to-date reports.
"Without up-to-date, accessible, and actionable information, construction teams will always struggle to communicate and collaborate," said James Cook, director of partner integrations at Autodesk Construction Solutions. "With Aptix's integration of Autodesk Construction Cloud, teams can ensure critical information is accessible to all the stakeholders that need it, helping companies more easily build and collaborate."
"By automating previously manual processes, Aptix eliminates time-consuming and error-prone data entry, allowing construction professionals to focus on more strategic tasks," adds Jason Hallett, vice president and general manager at Topcon Integration Services. "Project managers can make better, more informed decisions by having real-time visibility into project progress and potential roadblocks. We are confident that Aptix will optimize how construction projects are managed, providing a powerful new tool for construction professionals looking to improve their project management processes."