Hamm asphalt roller series expands with new digital-ready models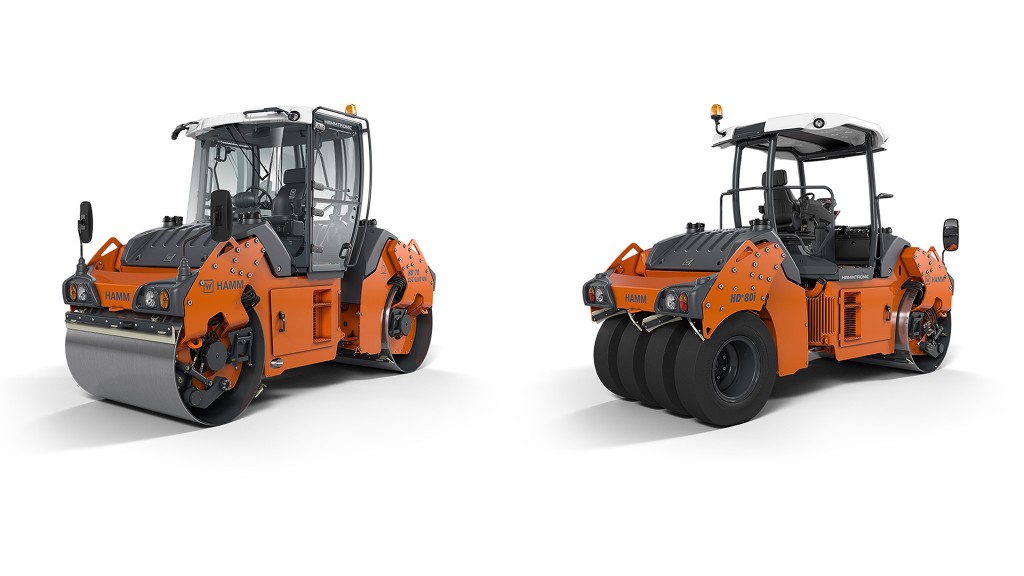 Hamm is expanding the HD+ series of asphalt rollers with six new models in the 7- and 8-tonne range, including the HD+ 70i and HD+ 80i models. These Tier 4 Final/Stage V models feature Hamm's Easy Drive operating concept as standard equipment, and are digital ready, fitted with the needed interfaces for use with digital applications.
Digitalization to increase compaction quality is a key for Hamm, leading to the inclusion of interfaces needed to connect telematics and fleet management systems, as well as Smart Doc, the app for compaction control and compaction documentation. All models with Tier 4 Final/Stage V engines feature digital interfaces, ensuring the line is digital-ready across all weight classes.
Easy Drive is an operating concept that makes running Hamm machines easier by ensuring control look and layout are very similar from model to model - for example, buttons for the same function use the same colour from cab to cab, and the location of controls is similar as operators move between units. The result is easier and more ergonomic operation.
All the HD+ models are available as vibration, oscillation, or combination rollers. They are designed to compact economically and provide similar driving and handling characteristics compared to heavier rollers in the series. But, with compact proportions, they can maneuver easier on tight construction sites.
As an option on the HD+ series, the SmartDoc app uses Bluetooth to transmit relevant operating data to a smartphone or tablet, allowing the operator to see how compaction is progressing in real time. At the same time, the app links machine data with GNSS position. A Smart Receiver provides precise location information. Smart Doc uses data to produce compaction reports as PDFs, allowing self-monitoring and continuous compaction control (CCC.) Later in 2023, SmartDoc will be able to bundle together data from every roller on a construction site - every connected roller will be able to display the overall compaction achieved by the team, and management can follow the result in real time.
The John Deere Operations Center telematics solution can also be used to manage construction sites, incorporating planning, monitoring, maintenance, and analytics. This helps roller operators perform maintenance and diagnostic tasks, and provides targeted analyses of operating behaviour. Routine maintenance increases the availability of rollers and avoids unscheduled downtime.