Volvo's electric heavy transport truck hauls 74 tonnes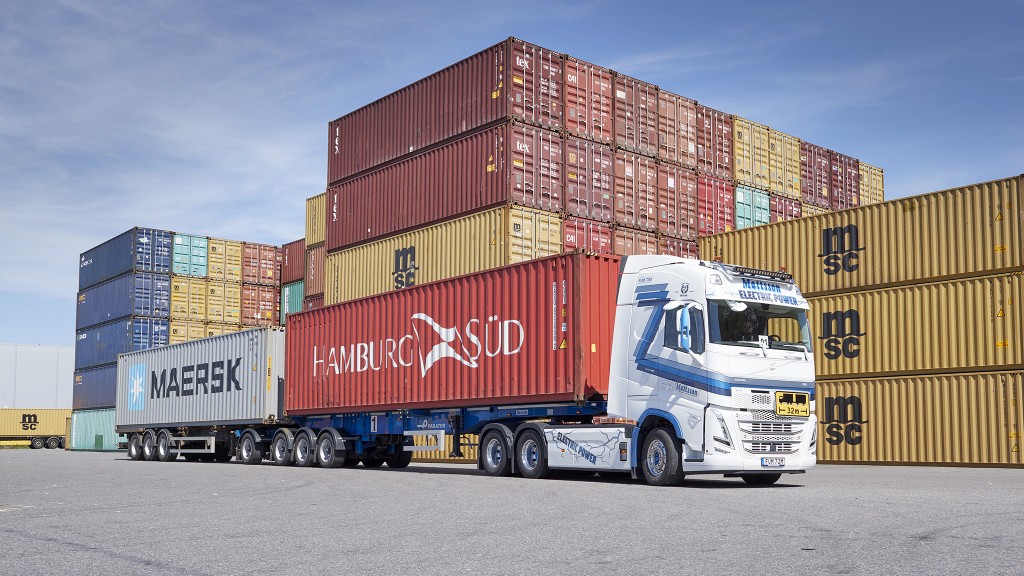 Volvo Trucks has delivered an electric truck designed for heavy transport – up to 74 tonnes – to a hauler in Gothenburg, Sweden, the latest in a growing number of electric vehicles being acquired for hauling of various weights.
Mattsson Åkeri in Gothenburg, Sweden, has now bought three heavy electric FH trucks from Volvo. Testing has been done for the past few weeks, placing one of the trucks in container traffic within the port area of Arendal in Gothenburg as part of a HCT (High-Capacity Transport) project. With two trailers, the truck is 32 metres long.
"We want to show that all-electric solutions also work in applications with high total weights and a high utilization rate. Together with Mattsson Åkeri, the Swedish Transport Administration and several other partners, we are now looking at how we can optimize the operation of the electric truck, including how charging should take place in the most efficient way," explains Lena Larsson, project manager of the HCT project within Volvo's technology organization.
The truck in question is a Volvo FH Electric 6x4, and is charged with green electricity at two 180 kW fast charges installed at the Mattsson Åkeri depot in Arendal. Longer-term plans are for the truck to haul between Gothenburg and Borås, 70 km from Gothenburg.
"Driving long and heavy loads using electricity works very well so far, and we can carry as much cargo as a diesel truck," says Jan-Olof Mattsson, CEO of Mattsson Åkeri. "The truck runs 12 hours a day, with a stop for charging when the driver takes a break. We charge with green electricity and thus get no CO2 emissions. Silent, electric operation also means a better working environment for the driver."
Volvo Trucks has sold nearly 5,000 electric trucks to buyers in 40 countries around the world since production began in 2019.