Updates to JLG SkyTrak telehandler line include brand-new model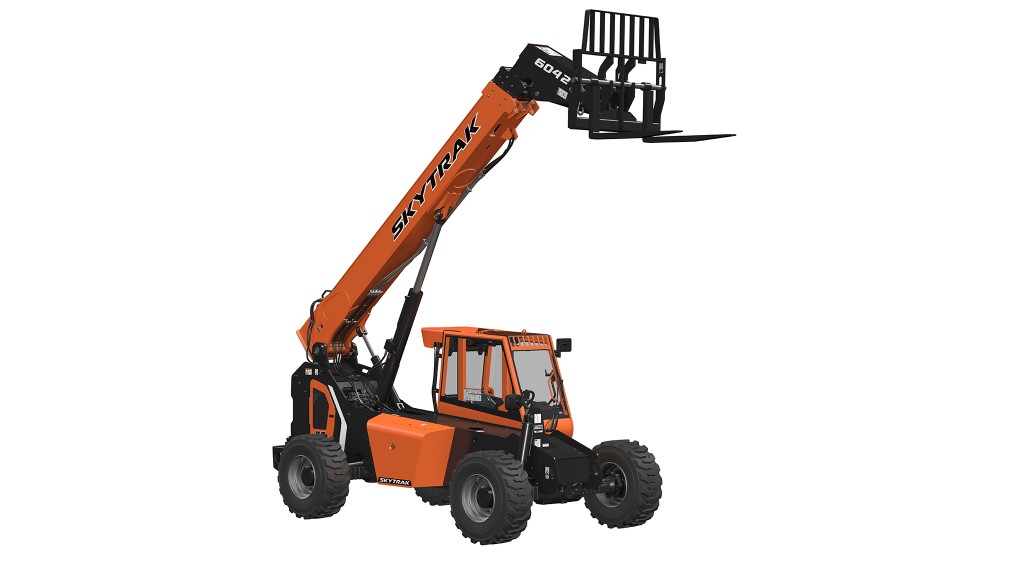 SkyTrak telehandlers from JLG are getting a makeover, starting with two models: the brand-new 6034 and updated 6042. Both machines have a 6,000-pound maximum lift and are ideal for pick-and-place applications like handling, loading, and unloading bulk materials. They feature a redesigned build, reworked functionality, reimagined technology, and refocused serviceability.
"Understanding the demands and challenges crews face on work sites day after day," says John Boehme, Senior Product Manager - Telehandlers, JLG, "we redesigned the all-new 6034 and 6042 models with features and capabilities directly inspired by the needs of those who need them most. These updated models deliver our customers' most requested features, with zero sacrifice, proving yet again why SkyTrak is North America's #1 best-selling telehandler line."
The 6034 replaces the previous 6036, while the 6042 has been updated with new features. Both units have lower operating weights - 14,500 pounds on the 6034 and 19,100 pounds on the 6042 - for easier transport. The lightweight design allows more units to be hauled on a single flatbed trailer, and in the case of the 6034, to be towed by a standard pickup truck.
The 6034 has a lift height of 34 feet and 23 feet of forward reach. The 6042 can lift to 42 feet and has 29 feet of forward reach. Both machines have three steering modes: two-wheel, four-wheel, and four-wheel crab. Operators can select what works best for maximum maneuverability on their site. In addition, these new models have a 95-inch width and smaller tires, making them more maneuverable without losing ground clearance.
JLG has powered these telehandlers with a 74-hp, 2.9-litre Deutz diesel engine that does not require diesel exhaust fluid, reducing maintenance costs. Hydrostatic transmissions provide greater control and ease of operation. Both also have inching functionality, allowing operators to run the boom at high speeds without shifting the transmission into neutral. This makes delivery of materials at height faster.
Both models feature a common coupler for use with all JLG and SkyTrak attachments. Auxiliary hydraulic connections are now on the side of the boom head so operators can change attachments more efficiently. The 6034 and 6042 feature a standard boom-mounted lifting lug to properly handle suspended loads, and an integrated tow hitch.
A new advanced control system allows for more options like load stability indication (LSI), seatbelt engagement and operator presence, and improved diagnostics. A new cab design features a larger LCD display for a more data-rich interface and larger, single-page load charts.
The single joystick control is electric over hydraulic, adding greater multifunction capability. Auxiliary hydraulic function and attachment tilt are included on the joystick.
A number of optional systems improve operator confidence and productivity. A multi-reverse camera system allows operators to back up more safely with multiple views from behind the machine to the left, right, and rear. An optional reverse sensing system alerts operators to rear obstructions with an audible alarm, aiding crews to be more aware of their surroundings on busy job sites. A white noise backup alarm is available, emitting a directional signal as the telehandler backs up, reducing job site noise while improving safety.
Service enhancements include a 30-percent reduction in hydraulic hoses and connections, cutting down on possible leak points. A top-mounted telescopic cylinder makes for easier access, and the rear access door on the frame has been replaced with a bolt-on panel for added durability. Boom enhancements include faster boom function speed, an eight-percent improvement over previous models, and an updated single compensation and lift cylinder design for fewer components to maintain.