JLG adds its first straight-jib compact crawler boom lift to lineup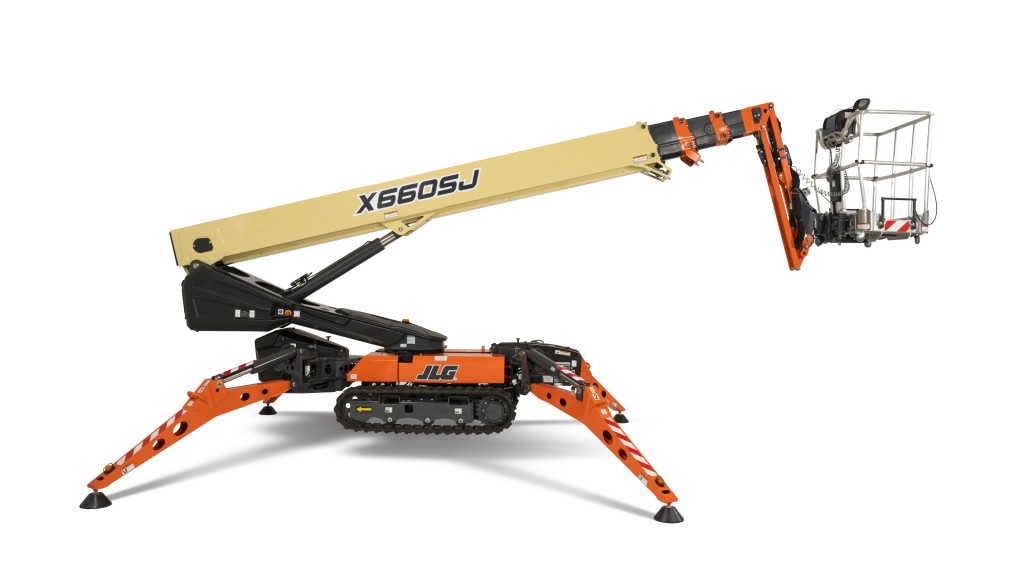 JLG Industries, Inc. has introduced its first straight-jib (SJ) compact crawler boom lift – the X660SJ. The X660SJ has a 65-foot 7-inch platform height, 500 pounds of capacity for up to two workers, a horizontal reach of 39 feet, and indoor/outdoor versatility. JLG says that the X660SJ is ideal for a wide range of applications, including arboriculture, painting, general maintenance, electrical, HVAC, and window washing on job sites like auditoriums, arenas, atriums, and outdoor structures.
"The X660SJ is designed with several unique features that are key to efficiently accessing work at height," says Angela Patterson, JLG boom lift product management lead. "For example, the architecture of this new straight-boom compact crawler boom lift enables operators to reach full height more efficiently, while its crawler-mounted design and 40 percent gradeability mean the X660SJ can climb slopes with ease compared to standard lifts. And, its two-foot, 11-inch profile and less than 7,400-pound footprint allow operators to go more places around the job site, such as through gates and standard doorways to work in yards and public buildings."
Other features of the X660SJ
Envelope tracking operation for work alongside buildings, walls, and other infrastructure. With a single control function, operators can boom up/down, while also telescoping out/in, so that the platform travels a path perpendicular to the ground
Multiple-position, one-touch self-levelling outriggers provide flexibility to work in tight areas and to maximize the working envelope
"Go Home" and "Back to Work" functions for ease of returning to stowed or recorded work positions. The software optimizes the path to the stowed or saved work position based on machine stability
The X660SJ comes standard with a Kubota diesel engine. A lithium-ion battery and AC drive system option is available along with JLG's new bi-energy option. This alternative equips the JLG compact crawler boom lift with two full-sized, independent power sources, combining an emissions-free lithium-ion battery pack with a diesel engine. This enables operators to choose the best power source for the application – either the engine or the lithium-ion batteries. All of JLG's compact crawler boom lifts available in North America come with fully synthetic biodegradable hydraulic fluid so it can be used in environmentally sensitive areas.
Like JLG's other compact crawler boom lift models, forklift pockets for loading and unloading for transportation are standard. Air/water/power lines to the platform, non-marking tracks for work on sensitive flooring, integrated front and rear LED lights for visibility, and SkyGuard SkyLine enhanced control panel protection also come standard on the X660SJ.
This new model also has similar components and serviceability features to JLG's entire compact crawler boom lift product family, including the enclosed powertrack design, which protects machine components by reducing debris impact.