Guay adds 19 Tadano rough-terrain cranes to its rental fleet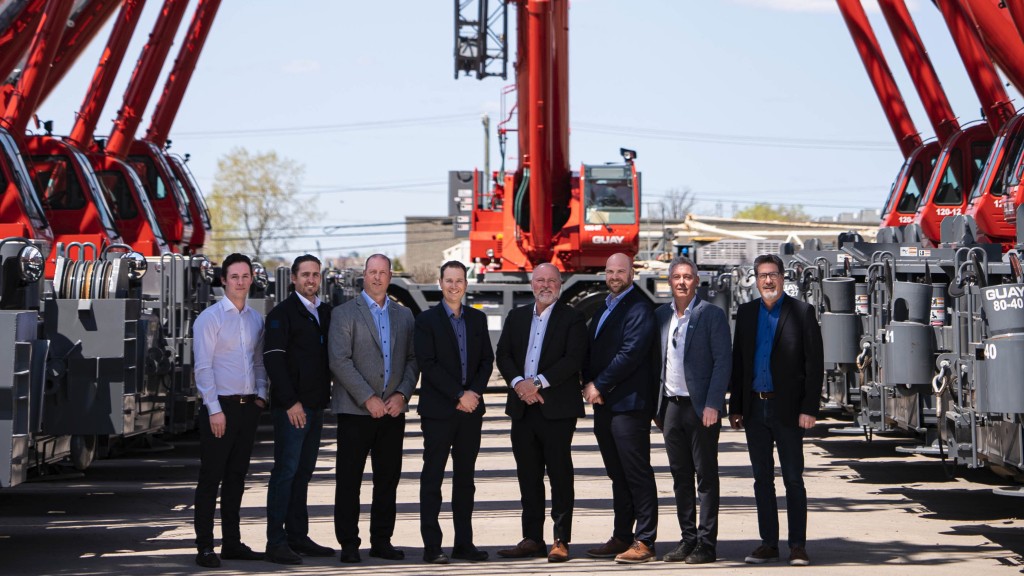 Guay has added 19 Tadano rough-terrain cranes to its rental fleet. The rental company specializes in operated and non-operated crane rentals throughout Quebec. The cranes Guay has taken delivery of are Tadano rough-terrain cranes ranging from 55 tons up to 160 tons.
"We wanted to renew the RTs [rough-terrain cranes] in our rental fleet and now have access to better technology, like the Smart Chart on the Tadano," says Guillaume Gagnon, executive vice president of Guay. "Our decision was made on the reliability of the Tadano RTs. We work in remote area winter conditions, so we wanted to have a rough-terrain that was reliable. Also, what we like is all the rough-terrain models have the same operational pattern (lots of parts in common). So for our technicians and crane operators, they are easier to operate and to maintain – which increases our productivity for our customers."
"We believe these rough-terrain cranes are a great fit for Guay's fleet and their client's needs. We look forward to a long relationship between Guay Cropac, and Tadano," says Tadano America Regional Business Manager Justin Andrews.
"I would also like to add something about the support we get from Tadano," continues Gagnon. "I know we also appreciate the support we get from our dealership Cropac. When we do our studies to buy the crane, the support and service matter so much. When we have a problem with the crane, they are always there to help us and that's really important to serve our customers better."
"Tadano RTs really excel in providing a high-quality experience for our customers," adds Cropac Equipment President and Owner Bill Finkle. "In Canada, we're really spread out geographically. We have a lot of remote job sites, and it gives us a lot of confidence putting a Tadano into one of those sites where we don't have access to technicians and parts. Overall the reliability is the best that we've experienced in our rental fleet."
Guay's aims to help contractors throughout Quebec complete all their lifting projects, and Tadano says they are thrilled to be a part of accomplishing and exceeding that goal.