Crane contractor Guay receives two unique Liebherr mobile cranes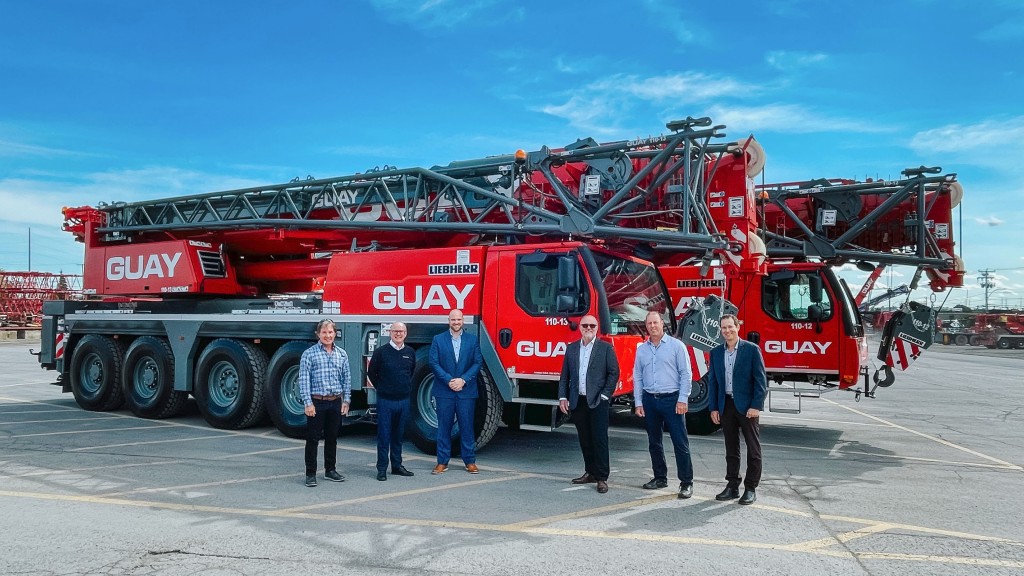 Crane contractor Guay Inc. has received two Liebherr LTM 1110-5.1 cranes. They are the first cranes of this type in Canada. The 60-metre (197 ft) telescopic boom and high lifting capacities of the 110-tonne (125 tons) machine were important criteria for the Québec-based company when buying the cranes. The new cranes will replace aging cranes in Guay's fleet, which comprises more than 500 cranes.
"In our market, a 110-tonne crane is the largest mobile crane in which an apprentice can work as the second man in the crane alongside the operator. In addition, the axle loads and the weight distribution of the LTM 1110-5.1 are absolutely perfect and mean that we don't have to use a boom dolly," says Guillaume Gagnon, vice president of Guay.
Guay is planning to use the new crane in the centre of Montreal for hoisting work involving great heights and ranges. With the VarioBase Plus variable supporting base, it can also be used on sites where there is restricted space for erecting the crane. VarioBase Plus allows for higher lifting capacities, particularly when working above the outriggers.
The LTM 1110-5.1 achieves axle loads of 12 tonnes (26,400 lb) with 13.4 tonnes (29,500 lb) of ballast, but can also be driven with a gross weight of less than 48 tonnes (105,800 lb) with a maximum axle load of 10 tonnes (22,000 lb). Even with maximum ballast of 29 tonnes (63,900 lb), its axle load remains below 16 tonnes (35,300 lb).
The telescopic boom on the LTM 1110- 5.1 is one of the longest in its crane class. In addition, it can be supplied with a 10.8- to 19-metre (35 to 62 ft) folding jib. Two 7-metre (23 ft) lattice sections can also be installed to extend the telescopic boom to achieve the maximum hook height. This means that the LTM 1110-5.1 mobile crane can achieve the same system length as larger cranes.