Caterpillar expands backhoe and mini excavator attachment ranges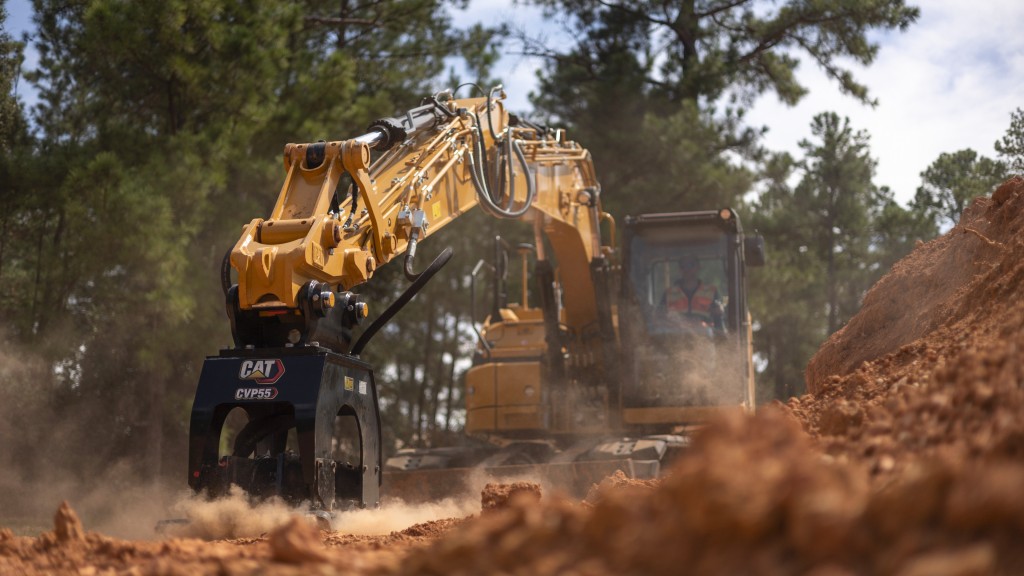 Caterpillar has expanded its range of new Cat attachments for backhoe loaders and mini excavators. The new models span the range of demolition and sorting grapples, multipurpose grapples for Cat tiltrotaters, vibratory compactor plates, and cold planers.
Demolition and sorting grapples
The new G306 and G308 models are specifically designed for five- to six-ton and seven- to 10-ton mini excavators respectively. These new models are ideal in waste, recycling, and material handling applications where material placement is required. The machine's first auxiliary function controls open and close functions and the rotation head is handled by the second. These grapples also utilizes 360 degrees of bidirectional rotation.
The grapples are slim to get into tight spaces, and material capacities range from 160 litres for the G306 to 240 litres for the G308. Vertical perforated shelves offer high wear resistance, positive penetration, good load visibility, and easy positioning, while the oversized heavy-duty cylinder with load holding valve delivers constant clamping force, even when maneuvering the grapple or machine. The swing bearing features a single-ball heavy-duty, internally driven design. The weld-on base edge design is made of HB500 Brinell equivalent material and bolt-on cutting edge (BOCE) from high-strength, abrasion-resistant steel.
Tiltrotator grapples
The first hydraulic attachment expansion for Cat tiltrotators (TRS), the new Cat G206 and G208 grapples expand the grapple technology in combination with the TRS6 and TRS8 models for five- to 10-ton mini hydraulic excavators. These models increase the maneuverability of TRS attachments. An integrated bracket provides a minimal offset to help the performance of grapple functionality.
With the G206 sized for five- to six-ton excavators and the G208 for seven- to 10-ton models, these grapples utilize 14.5 kilonewtons and 18.4 kilonewton maximum closing force respectively. An integrated cylinder load holding valve maintains grapple closing pressure while the hard-mounted piston accumulator maintains grapple arm closing forces with shifting loads. Ideal routing of the integrated jumper lines and hoses safeguards against damage and dirt infiltration.
The grapple design is matched to Cat's tiltrotators. The tiltrotator rotation allows for quick and easy material engagement. These grapples feature a welded box structure. With grapple arms and arm edges built with AR450 steel, the arm offers high abrasion resistance for longer wear.
Vibratory compactor plates
Caterpillar has added the new CVP28 and CVP55 models to its Cat vibratory compactor plates and has relaunched its CVP16 and CVP40 compactors with new design enhancements. The plates are suited for the compaction of soil, sand, gravel, and asphalt. Caterpillar says that the compactors deliver lower investment and maintenance costs for contractors engaging in residential, commercial, and industrial work.
The Cat CVP range covers all backhoe loaders and excavators ranging from the Cat 302.7 to the 313. The range offers compaction widths from 304.8 millimetres (12 inches) to 660.4 millimetres (26 inches) and compact areas ranging from 0.19 square metres (two square feet) to 0.53 square metres (5.7 square feet) at vibration frequencies from 33.3 to 40 hertz.
The compactor's steel frame delivers ideal power to the ground. Rubber mounts isolate vibrations from the compactor attachment, minimizing vibration feedback to the rest of the machine. The gear-type hydro motor is vibration driven for consistent, reliable power. The design's access cutouts are laser cut for easy access to hardware when mounting the top bracket.
Post and plate driver attachments bolt to the bottom of the CVP28. All models can be equipped with a backfill blade to help spread out material in the ditch prior to compaction, and a swivel mount rotates 90 degrees in each direction to minimize machine movements.
Cold planer attachments
Designed for small paving jobs in residential and commercial applications, new Cat Cold Planers deliver economical restoration of asphalt and concrete surfaces. They efficiently mill imperfections prior to resurfacing and remove deteriorated pavement and traffic lane stripes.
With a working width of 350 millimetres (13.8 inches) and a 120-millimetre (5-inch) maximum milling depth, the new PC35 is designed for operation with side-shift backhoe loaders and five- to six-ton mini hydraulic excavators. The new Cat PC45 replaces the PC404 with its 450-millimetre (17.7-inch) cutting width and 150-millimetre (six-inch) cutting depth. Caterpillar says that the cold planers are ideal for use with backhoe loaders and extend the planer's compatibility to seven- to 10-ton mini hydraulic excavators.
The cold planers come standard with a cut depth indicator, giving the operator a quick view of the set depth. Milling depth is manually adjusted and locked in. Caterpillar says that the heavy-duty gear motor provides high torque and efficiency across the speed range. A hydraulic relief valve limits pressure to the motor for increased longevity. A standard pressure gauge provides feedback to the operator to allow for ground speed adjustments. The PC35 and PC45 reuse existing hammer lines to simplify operation and are equipped with drum centre and width indicators.