Bobcat compact track loader specs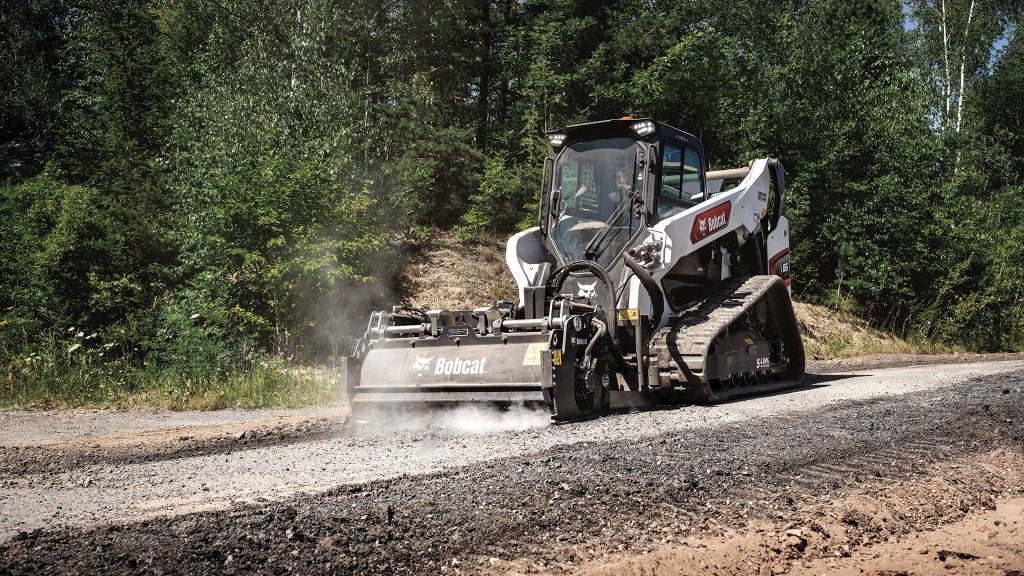 Bobcat Company
Bobcat says it has focused on continued innovation with the recent launch of its R-Series skid-steer and compact track loader line. The R-Series loaders are the most powerful, durable loaders Bobcat has ever built. They feature improved stability, more efficient hydraulics, and improved breakout forces and lift capacity compared to previous models. Comfortable cabs and excellent visibility make Bobcat CTLs easy to operate. Paired with Genuine Bobcat attachments, Bobcat says its compact track loaders are a versatile addition to any job site.
Featured: T86
The T86 is the most powerful compact track loader Bobcat has ever built, delivering more usable engine and hydraulic horsepower than ever before. The T86 features an optimized weight-to-horsepower ratio that makes this vertical lift machine powerful, maneuverable, efficient, and productive.
Recent Bobcat compact track loader attachments
Bobcat drum mulchers
Bobcat's newly redesigned line of drum mulcher attachments are available in 50-inch, 61-inch, and 72-inch cutting widths. Each drum mulcher is approved for the 700- and 800-Series compact track and skid steer loaders.
A standard two-speed hydraulic motor provides increased drum torque and quicker drum speed recovery. The 50-inch and 61-inch mulchers have a pressure gauge to monitor drum speeds better.
The drum mulchers utilize carbide teeth to rip through landscaping debris and can accommodate tree removal jobs of up to eight inches. Drum rotation stops within 20 seconds after deactivating the auxiliary hydraulics because of the hydraulic drum break.
Bobcat snowblower
Bobcat's new snowblower has nine different width options and several motor packages.

The snowblower features a direct-drive, sprocket-style chute rotation that improves performance and maintenance accessibility. The chute also delivers 270 degrees of rotation for a wide range of placements, a 15-degree increase over previous designs. It can also be placed wherever the job requires, including hard-to-reach places like lawns, ditches, and wooded areas along a path. The machine can also break through ice buildup, eliminating the need for chains.
The chute's rounded intake provides a smoother surface to roll the snow into the feed impeller, rather than pushing it. This design helps to minimize clogging and reduces resistance for improved snow flow through the attachment. High-flow models capture extra available hydraulic horsepower from the carrier, which enables clearing through deep drifts and heavy snow.
An additional feature includes easily adjustable skid shoes which are mounted to the sides of the snowblower. This allows operators to raise or lower the clearing depth to match the job site's surface. This feature makes it easier to maintain ground alignment and can also help guide operators along curbs or walls while preventing contact with the snowblower itself.
Three hydraulic power options on Bobcat's most powerful loaders
The T86 compact track loader offers three hydraulic flow options in one machine and also features Bobcat's power management system, Premium Power Performance, which distributes power more efficiently on loaders equipped with high-flow and super-flow hydraulics.
The T86 is engineered to provide attachment versatility and productivity, with every component designed to deliver maximum hydraulic performance.
The three hydraulic flow options are:
Standard Flow (23.0 gpm, 3,500 psi) (Standard) - Select standard flow to operate attachments that require lower hydraulic horsepower.

High Flow (36.6 gpm, 3,500 psi) (Optional) - This system provides additional hydraulic power to boost production of attachments like the Bobcat flail cutter, trencher, planer and stump grinder.

Super Flow (42 gpm, 4,061 psi) (Optional) - Tackle the most demanding attachment applications, including pavement milling and clearing land of trees and heavy brush, with attachments designed specifically for super-flow hydraulics.
Bobcat attachments are engineered to fully integrate with the carrier's electronics, hydraulics, and geometry. The T86 can power a wide variety of attachments including those specifically designed for super-flow hydraulics such as super-flow snowblowers, cold planers, and forestry drum mulchers.